In the news: Business and Music faculty
Dr. Rachel Smith, associate professor of Finance in the School of Business, was invited to the news studios of WTTV-CBS4 last week to explain the everyday significance of the Federal Reserve's apparent intent to raise interest rates.
"If you're considering, let's say, purchasing a home, it might be a good time to do that," she told anchors Debby Knox and Matt Smith. "You don't want to go with adjustable-rate or variable-rate loans, because they are going to start to go up."
Watch the clip here.
*               *             *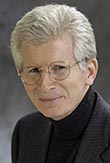 Dr. Richard Ratliff, professor of piano in the Department of Music, earned high praise last week in the Jay Harvey Upstage arts blog for a recent Faculty Artist Concert Series solo performance that celebrated his 35 years at UIndy.
Harvey, perhaps the last serious classical music critic in central Indiana media, called the evening "an appealingly elevated recital, which wore its cause of celebration with elegance."
"Over the years, an autumnal quality has come into Ratliff's playing with increasing prominence," Harvey wrote. "Mellowness that should not be mistaken for lassitude suffused Monday's recital. To take up the Beethoven first, even the second-movement march that foreshadows the highly charged complexity of the finale had its points of rest and recharging emphasized.  The movements on either side of it, compact and engaging, were played with tenderness and a slightly evasive feeling."
Read the full review here.