Students to host Special Olympics BB tourney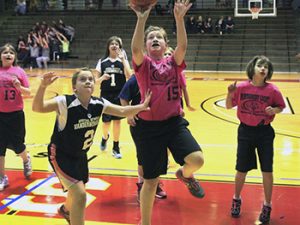 More than 300 special athletes ages 8 to 21 will come to campus Saturday for the 2015 Special Olympics Indiana State Youth Basketball Tournament.
This year's tourney includes more than 30 teams competing in junior and senior divisions, and more than 300 Greyhound volunteers to make sure those players have a great experience.
This is the sixth consecutive year that UIndy Kinesiology students have partnered with Special Olympics Indiana to organize and host the statewide tournament. Running the operation Saturday will be students from Associate Professor Jennifer VanSickle's Applied Event Management course, who have worked out the logistics, scheduling, and recruitment and supervision of volunteers. Students from the Exercise Science and Community Health Education programs will offer fun and educational side activities for the athletes to enjoy during the day.
The event will run from 9 a.m. to 7 p.m. Saturday in Ruth Lilly Fitness Center and Nicoson Hall. Games generally begin on the hour, with a break from noon to 1 p.m. for the Special Olympics Indiana Youth Rally and Ceremony, featuring speakers and activities. A skills competition is scheduled from 1 to 2 p.m., and awards will be presented in the afternoon, following each team's final game of the day.