Students set for annual neighborhood cleanup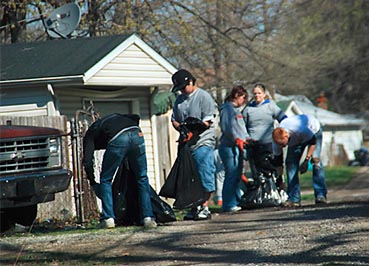 Just like a home, any neighborhood can benefit from a good spring cleaning, and the area around campus will get its turn this week, thanks to a horde of UIndy volunteers.
More than 100 students and staffers already are signed up for this year's Great UIndy Cleanup, which will send work crews Saturday morning to sites including the University Heights neighborhood, University Heights United Methodist Church, the Montessori Garden Academy and the Historic Hannah House. The annual event is another example of UIndy's "Education for Service" motto in action.
The day begins with check-in, registration and breakfast from 7:45 to 8:45 a.m. in UIndy Hall before the crews head out to the designated sites for more than two hours of picking up trash, raking leaves and performing other outdoor chores. Walk-in registration is available, too.
How are you spending your Saturday morning?