Music students donate their time for IPS contest
About 700 Indianapolis Public Schools students will have a chance to put their musical talents to the test today, thanks to some of UIndy's own music students.
The campus chapter of the National Association for Music Education is sending 22 members to Northwest High School this afternoon to serve as adjudicators for the IPS/Indiana State School Music Association Solo & Ensemble Contest for grades 5-8. The UIndy students receive special training from ISSMA and volunteer their time for the contest. This is the sixth consecutive year the UIndy chapter has provided the service.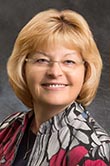 "It provides invaluable professional development, as well as experience in the field, doing what they will be asked to do as professionals," says Dr. Brenda Clark, chair of the Department of Music.