Campus community mourns student's passing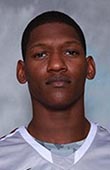 The entire University of Indianapolis community mourns the loss of Dai-Jon Parker, a senior student-athlete with a vibrant personality who had a great future ahead. This is a tragic situation for everyone involved, and UIndy is offering counseling and support to the people closest to him.
Dai-Jon passed away Thursday after a water accident on Morse Reservoir. Originally from Baton Rouge, La., he transferred to UIndy last year from Vanderbilt University and played basketball for the Greyhounds.
Please keep Dai-Jon's family, friends and teammates in your thoughts and prayers.