Grant funds southern Indiana archaeology work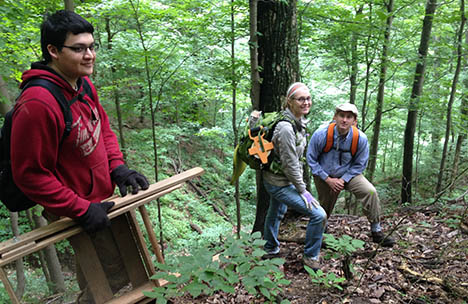 Senior archaeology and anthropology major Kristopher Aguirre, left, works the wilds of Floyd County with UIndy research associate Rebecca Van Sessen and Assistant Professor Christopher Moore. (Photo by Elizabeth Straub)
A $50,000 federal grant is supporting UIndy faculty and students in a major archaeological survey of southern Indiana's Floyd County.
After months of preparation, Assistant Professor Christopher Moore and research associate Rebecca Van Sessen – both UIndy alumni — hit the field with 11 students in May to begin cataloging historical sites that range from prehistoric Ohio River settlements to 20th century structures. The goal is to create an official record of potential archaeological resources that are vulnerable to erosion and development, before they are lost to construction projects or the passage of time.
The funding from the National Park Service, which comes through the Indiana Department of Natural Resources' Division of Historic Preservation & Archaeology, will enable students to learn from hands-on field experiences while also creating a valuable resource for the Floyd County community. They began their summer work in residential areas and parks in New Albany as well as rural and wooded areas near Lanesville and Floyds Knobs.
Moore and the students expect a fruitful search, he said.
"While nearby counties like Clark and Harrison have over 1,000 known archaeological sites each, Floyd County has just over 100 known sites," he said. "We expect to increase this number considerably and greatly expand our understanding of archaeological resources in the Falls of the Ohio region overall."
Through individual contacts and a website, www.floydcountyarchaeology.com, the UIndy group has worked hard to involve local residents in the process and gain permission from landowners. Already, Moore said, they have been invited to survey more properties than they will be able to cover in this initial eight-week survey period. They hope to continue the process in future years.
Van Sessen grew up in Floyd County and earned a master's degree in anthropology from UIndy in 2013. Moore, who teaches in the departments of Anthropology and Physics & Earth-Space Sciences, also is a UIndy grad, having earned his bachelor's degree in archaeology and anthropology from UIndy in 2004.