New court and field will greet student-athletes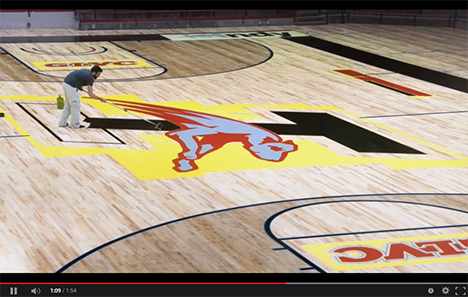 It's hard to keep track of all the construction projects and improvements underway on the UIndy campus this summer — the Health Pavilion, Krannert Memorial Library and Greyhound Village apartments, to name a few — but let's not forget our athletic venues.
Both Key Stadium and Nicoson Hall arena have new and quite sharp-looking playing surfaces, among other updates. And construction has begun on the practice field for the new Greyhound men's and women's lacrosse teams.
Inside Nicoson, thanks to a generous gift from Ray Skillman Auto Group, UIndy's basketball and volleyball players will have new wood under their shoes, dubbed "Skillman Court" and emblazoned with bold lines and logos. If you've ever wondered how basketball court graphics are applied, UIndy staff photographer D. Todd Moore has assembled an amazing time-lapse video of the installation process that you can watch here.
At Key Stadium's Kiesel Field, football, soccer and lacrosse players will appreciate the new turf, a freshly installed state-of-the-art Crossflex HP synthetic surface. Its official competition debut will be the men's soccer opener on Sept. 3. UIndy Athletics has a very cool drone's-eye video tour of the new field here.