Fresh facilities, opportunities await students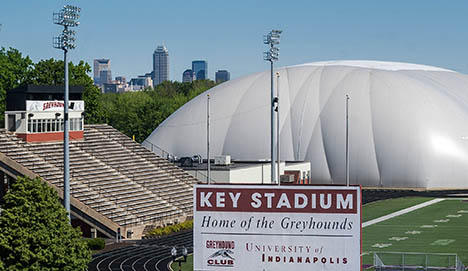 The downtown skyline is clearly visible from the fourth floor of the new UIndy Health Pavilion, highlighting the university's connection to the city.
Incoming freshman class sets records for size, academic success
Students returning to the University of Indianapolis for the Aug. 31 start of fall classes will find a campus – and a neighborhood – in transformation.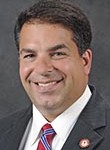 New facilities are just one sign of progress on a multifaceted development plan designed to boost quality of life in the University Heights area while keeping UIndy on the leading edge of innovation in higher education, President Robert Manuel said.
"The strategy developed by our university community already is proving successful in bringing new energy to this part of Indianapolis," Manuel said. "Given the synergy between our work, related community development efforts and the planned bus rapid transit line that will connect us to other key sites in the city, we expect to see tremendous advancements over the next few years."
About half of the university's projected 5,400 students this year will have a new home in the four-story, 160,000-square-foot Health Pavilion on Hanna Avenue. The facility will house the university's nationally respected programs in nursing, physical therapy, occupational therapy, psychological sciences, kinesiology, athletic training and social work, as well as the Center for Aging & Community. Clinical facilities operated through a groundbreaking partnership with Community Health Network will create opportunities for students and faculty in a range of disciplines to collaborate with health care professionals on education, research and patient care.
Across campus, an extensively redesigned Krannert Memorial Library now provides a flexible, technologically advanced environment designed to accommodate a range of learning styles and activities. Like the Health Pavilion, the renovated three-story library also features sweeping city views, a café, and indoor and outdoor gathering places providing new social hubs for students, faculty, staff and visitors.
University partnerships with government, business and the nonprofit sector also are bearing fruit. Joy's House Adult Day Service, the Indianapolis Neighborhood Housing Partnership and the Excel Center charter school network are among the organizations opening new locations this fall in nearby spaces leased from the university. In the next few weeks, two of the city's first BlueIndy electric car stations will be operating on the UIndy campus, giving the university community and its neighbors a new way to explore Indianapolis. The possibilities will expand exponentially with the expected construction of the bus rapid transit Red Line, with a station at Hanna Avenue and Shelby Street, which could be carrying passengers downtown and as far as Broad Ripple by 2018.
Record freshman class
A record-breaking 960 freshmen are expected this fall, bringing full-time undergraduate day division enrollment – the "traditional college student" – to more than 3,300 for the first time. The freshman class, hailing from 17 states and 15 nations, boasts 18 valedictorians, 10 salutatorians and an average high school GPA of 3.51, also a new UIndy record. The class is 8.1 percent African-American, 3.7 percent Hispanic and 4.8 percent international.
Total enrollment, including graduate and adult evening students, will approach 5,400, as it has in recent years.
New academic programs this year include:
Shaheen College of Arts & Sciences – bachelor's degrees in Data Sciences and Anthropology of Health; master's degree in Teaching English as a Second Language; Criminal Justice concentrations in Cybersecurity and Loss Prevention; undergraduate co-major in Social Practice Art
College of Health Sciences – master's in Athletic Training; bachelor in Public Health Education with concentrations in Health Care Consumer Advocacy, Worksite Health Promotion and Applied Public Health
School of Nursing – Accelerated Bachelor of Science in Nursing
School of Psychological Sciences – bachelor's degree in Applied Psychology
School of Business – bachelor's degree in Data Analytics
School for Adult Learning – bachelor's degrees in Health Care Consumer Advocacy, Criminal Justice and Community Leadership & Engagement
Athletics
The conference champion Greyhound football team will kick off its season Sept. 3 on new state-of-the-art turf at Key Stadium's Kiesel Field. The basketball and volleyball teams also will have a new playing surface on Nicoson Arena's Skillman Court. The state's first NCAA Division II men's and women's lacrosse program has recruited players from across the nation for its inaugural Spring 2016 season.