UIndy hosts launch of child fitness campaign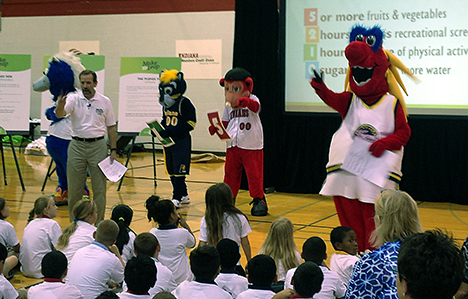 With some help from local sports mascots, Jump IN for Healthy Kids CEO Ron Gifford, left, delivers his message of nutrition and physical activity to a crowd of children and community leaders Wednesday at UIndy.
A broad-based local effort to reduce childhood obesity kicked off Wednesday at UIndy's Ruth Lilly Fitness Center.
The nonprofit organization Jump IN for Healthy Kids launched its "Make A Leap" campaign before a crowd of community leaders and children, including some from nearby IPS School 65, and with assistance from Pacemates, Indianapolis Colts Cheerleaders and mascots from the city's professional sports teams.
A group of students from UIndy's School of Occupational Therapy, organized by Professor Lucinda Dale, helped to lead exercises for the kids in attendance.
The campaign's goal is to reduce childhood obesity in central Indiana by 12 percent by 2025, through various efforts encouraging kids to eat healthier foods, increase physical activity and embrace healthy habits in their lives. More information is here.
The Indianapolis Star has a story and photo gallery from the event.