Homegrown UIndy returns for Thursday lunch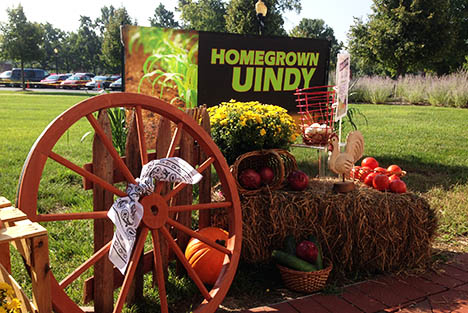 The campus community can get its grub on in locally sourced, Hoosier-themed style Thursday when Homegrown UIndy makes its third annual appearance.
Presented by the Sustainability Committee and University Dining Services, the event will run from 11 a.m. to 2 p.m. Thursday on the north side of Schwitzer Student Center.
Diners may swipe their meal cards or pay $6.50 for a yummy smorgasbord of fresh herb-roasted pork loin, airline chicken breast with maple onion glaze, tender pulled pork with natural sauce, beef chili with beans, grilled bison burgers, duck wings with orange BBQ sauce, roasted squash and tomatoes, corn on the cob and an assortment of salads and dessert options.
Other attractions will include locally made honey for sale, a watermelon seed-spitting contest and information booths representing community organizations such as Traders Point Creamery, Big Car arts collective, Red Gold and Global Peace Initiatives, as well as UIndy's own Center for Aging & Community, Food Recovery Network, the departments of Kinesiology and Sociology & Criminal Justice and the Environmental Sustainability major.