800-plus volunteers to join in day of service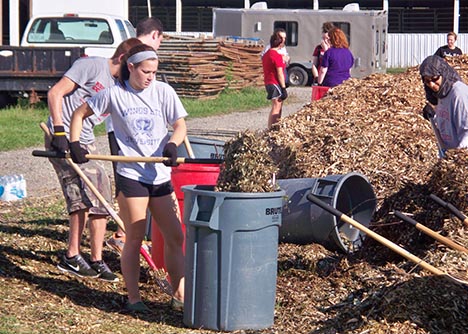 UIndy students move mulch at the Global Peace Initiatives community farm, near the Marion County Fairgrounds, during a previous Super Saturday of Service.
UIndy students, faculty and staff will work at 25 community sites
More than 800 University of Indianapolis students, faculty and staff members will donate their time and effort Saturday morning to benefit community groups, nonprofit organizations and public spaces throughout the city.
UIndy's annual Super Saturday of Service introduces students, especially freshmen, to a key element of the university culture, as reflected in its longtime motto: "Education for Service." Each year, UIndy students devote more than 100,000 hours to volunteerism, service-learning and other community engagement opportunities.
This year's event involves 25 partnership sites. Student coordinator Steven Freck, a senior social work major from Huntington, worked with the community partners to identify worthy projects and assign the necessary volunteers to each site.

"We have students from every class, and faculty are serving alongside their students," said Freck, who will join about 100 other volunteers weeding, mulching and planting at University Heights Park, just south of campus at Mathews and Edwards avenues. "It's a really great way to make UIndy a present force in our community."
Other partners and worksites will include the Indianapolis Cultural Trail at various locations; Friends of the White River in the Broad Ripple area; the Center of Wellness for Urban Women on the near-Westside; Indianapolis Christian Fellowship on Madison Avenue; and Tails and Trails Rescue in Greenwood.