'NDY' sculpture arrives Monday to tout TEDx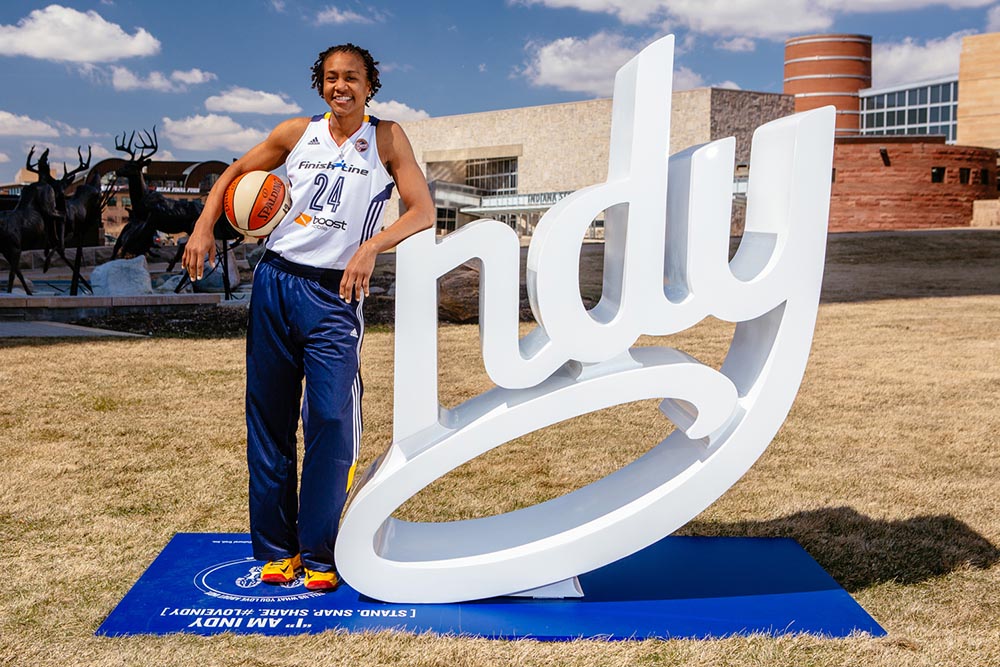 Indiana Fever star Tamika Catchings demonstrates the appropriate pose with an NDY sculpture, perhaps the one that will sit outside the Christel DeHaan Fine Arts Center through Oct. 21. (Photo courtesy Visit Indy)
UIndy campus is first Southside location for popular tourism initiative
The University of Indianapolis community and visitors will have a chance to "Be the 'I' in Indy" starting next week, when one of the city's popular "NDY" sculptures arrives on campus to set the stage for TEDxIndianapolis.
UIndy is a presenting sponsor and host site for the Oct. 20 idea conference, which will feature 16 speakers on various topics under the theme Keep It Simple.
The NDY initiative, developed by the Visit Indy organization to promote tourism, involves three 1,000-pound sculptures that are placed at various scenic sites around the city. Passers-by are invited to pose alongside for photos and share them on Facebook, Twitter or Instagram with the hashtag #LoveIndy.
University President Robert Manuel said the sculpture will be an engaging addition to the excitement surrounding TEDxIndianapolis, which also will enable visitors to see the progress taking place in the University Heights neighborhood through UIndy's strategic plan.
"This is a fun opportunity, especially for our students, to demonstrate the university's engagement with the city," Manuel said. "We also expect to see some creative approaches in adding a letter 'U' to the statement."
Since the April 1 launch of the sculpture initiative, more than 50,000 photos have been posted, said Chris Gahl, the organization's vice president of marketing and communication. The university campus, however, is the first Southside location for the venture, which generally has focused on downtown sites.
"We are proud to have our NDY at UIndy in time for the TEDxIndianapolis event," Gahl said. "With thought leaders coming together on campus, we are encouraging students, faculty, staff and TEDx attendees to help showcase why they love Indy."
The sculpture is expected to arrive at 10 a.m. Monday for installation at the west entrance of UIndy's Christel DeHaan Fine Arts Center, where the elegant Ruth Lilly Performance Hall will host the Oct. 20 conference. The DeHaan Center Gallery also is hosting a related Keep It Simple art exhibition through Oct. 30, featuring artwork by graduate student Kevin Moran and interactive displays created by Big Car arts collaborative, lead organizer of TEDxIndianapolis.
The NDY sculpture will remain on campus through Oct 21. More information on the conference is available at www.tedxindianapolis.com.