In the news: Art & Design, Mayoral Archives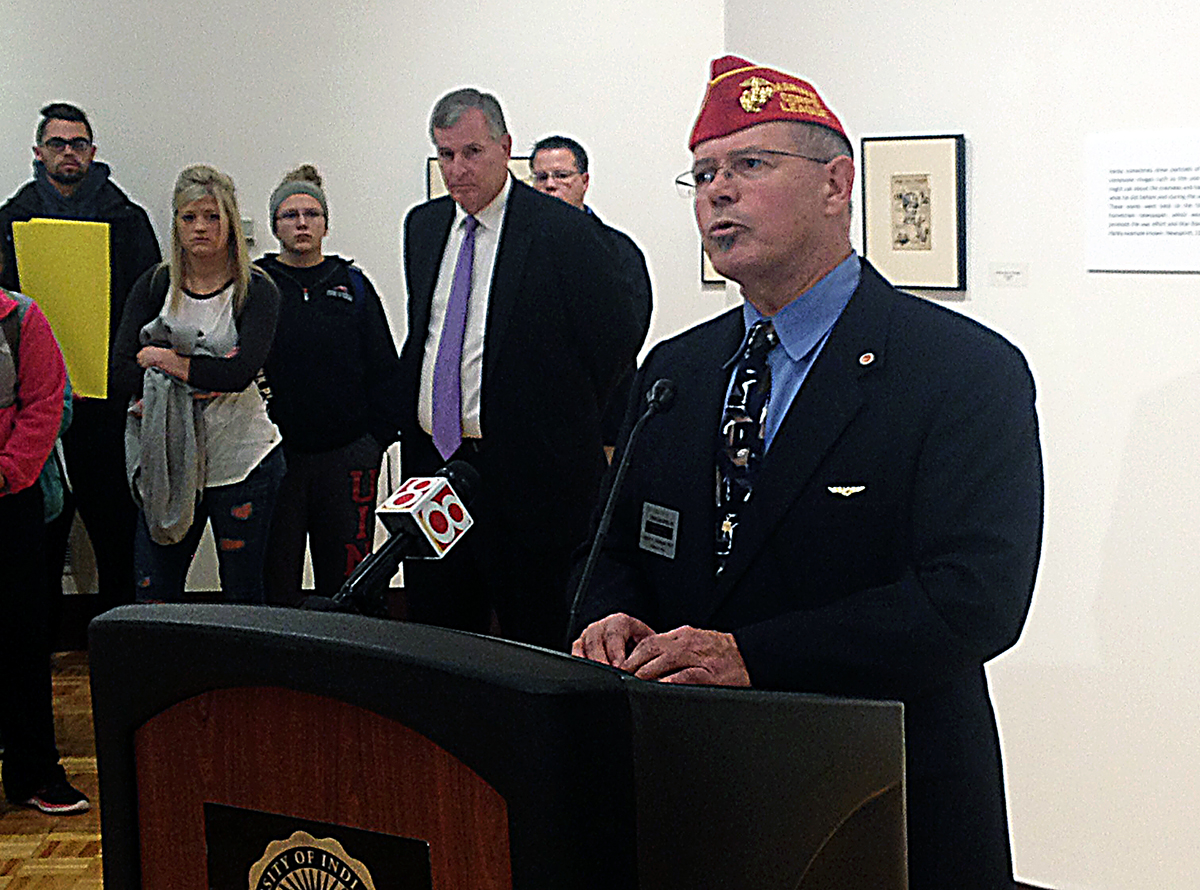 Mayor Greg Ballard looks on as UIndy Professor Gregory Reinhardt discusses the military service of his late father, World War II Marine combat artist T.L. Harby, subject of the current exhibition in the Christel DeHaan Fine Arts Center Gallery.
Not every gallery opening draws a visit from the mayor, but this was a special art show on a special day.
On Tuesday — the eve of Veterans Day and the 240th birthday of the U.S. Marine Corps — Marine veteran and Indianapolis Mayor Greg Ballard stopped by UIndy's Christel DeHaan Fine Arts Center Gallery for the opening reception of Faces of War: The WWII Combat Art of T.L. (Stoney) Harby. The exhibition features more than 30 drawings by Harby, who was assigned to the Marines' 6th Division to keep a visual record of its campaign across the Pacific.
Harby was the father of Dr. Gregory Reinhardt, professor and chair of UIndy's Department of Anthropology and a Marine veteran himself. Both Reinhardt and the mayor offered moving remarks for an audience that included family, friends, colleagues, students, fellow Marines and a WISH-TV crew that produced this report.
"It's difficult to imagine what was going through these people's heads," Ballard said, recalling his own service and gesturing toward drawings of harrowing beach landings. "The artist can capture that."
Click here for more information on the exhibition, which continues through Dec. 11. The gallery is operated by the Department of Art & Design.
*               *               *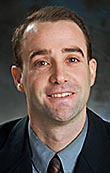 The recent elections prompted calls for Dr. Edward Frantz, associate professor of history and director of UIndy's Institute for Civic Leadership & Mayoral Archives.
Indianapolis Monthly magazine tapped Frantz for a feature headlined "Lessons for the New Mayor of Indianapolis." Frantz drew from the histories of former mayors Hudnut, Goldsmith and Lugar for themes such as the importance of working closely with state legislators and the logic of continuing your predecessor's good ideas. Read the piece here.
The national urban policy publication Next City contacted Frantz for a story on Boston University's acquisition of former Mayor Thomas Menino's archives. He noted the growing interest in municipal government history and innovation.
"A whole host of issues — immigration, public transit, the rights of LGBT citizens, creating great places to live and work — are landing at the feet of cities, because the federal government doesn't want to have to deal with them," Frantz said. Read the story here.