Two-day workshop series with piano pedagogue Paul Wirth: March 2-3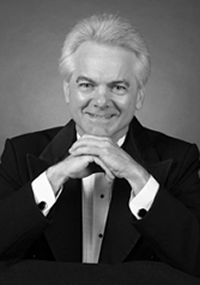 The University of Indianapolis Department of Music is hosting nationally renowned piano pedagogue Dr. Paul Wirth for a two-day workshop series March 2 and 3, 2018.
Dr. Wirth is the Artistic Director for the Wirth Center for the Performing Arts in St. Cloud, MN and a clinician and speaker with worldwide engagements.

The workshop series is the headline event for the year for three of the city's most prominent piano teachers organizations: Indiana Piano Teachers Guild, Indianapolis Piano Teachers Association, and Greater Indianapolis Piano Teachers Association.  

Brenda Clark, Department of Music chair, noted the significance of the event that brings multiple organizations together to participate, as well as the role of the University of Indianapolis.

"We are able to serve and support these local organizations as well as make the quality of our students, program, and facilities better known to them," Clark said.
University of Indianapolis piano students will participate in a 90-minute masterclass with Dr. Worth on March 2. All events are open to the public and free of charge.
Schedule:
FRIDAY, MARCH 2
10:00-11:45 – The Gravi-DVD: Part I with special guest Davida D'Zurilla, age 10 (RLPH)
12:00-1:30- Masterclass  featuring University of Indianapolis students (RLPH)
3:00-5:00 – The Gravi-DVD: Part II featuring Davida D'Zurilla (CDFAC 115)
SATURDAY, MARCH 3  
10:00-12:00 – The Lesson Notebook: A Book to Judge by Its Cover  (CDFAC 115)
1:30-3:00 – Preparing Students for Recitals and Competitions  (CDFAC 115)
3:15-4:15 – First Intermediate Masterclass  (CDFAC 115)
4:30-5:30 – Second Intermediate Masterclass  (CDFAC 115)
Part I of Dr. Wirth's GRAVI-DVD video series on teaching advanced technical concepts to pre-college students, first released in 2007,  is now available on YouTube.   Part II of the series is now being distributed nationally and internationally.