University mourns loss of alumnus and trustee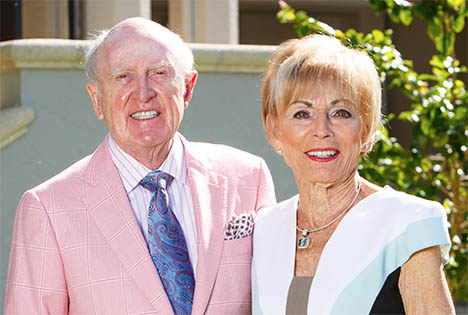 Ron and Laura Strain met as students at the University of Indianapolis, then known as Indiana Central University, and later became trustees and key supporters of the institution. Ron died Monday after an illness.
The University of Indianapolis community lost one of its pillars Monday with the death of Alumnus and University Trustee Ronald "Ron" Strain after an illness.
Ron and his wife, Laura, who met as students, joined the University Board of Trustees in 2013. Earlier this year, the university dedicated the Ron and Laura Strain Honors College in their honor following their $1 million gift to support and enhance opportunities for top students to pursue independent study, leadership and service opportunities, and faculty-guided research.
Growing up in Indianapolis and lettering in tennis at the then-known Indiana Central University, Ron graduated in 1957 with a degree in business administration. The Strains settled in Naples, Fla., following their retirements: Ron as Vice President of Finance and Treasurer of Miller Brewing Co., and Laura as Vice President of Marketing and Public Relations for U.S. Bank.
"Ron exemplified the University of Indianapolis experience, using his education as a foundation for success as a business and community leader, then generously giving back to the UIndy community with a legacy that will benefit students for generations to come," said University President Robert Manuel. "He rarely sought the spotlight, choosing to serve with a quiet spirit of humility, but he had a highly inquisitive mind, and his love of the question inspired everyone who came into contact with him. I will miss his friendship and counsel."
"I know you will join me in extending thoughts and prayers to Laura, their children, and the entire Strain family," Manuel added in a message to the University community.
Several children of Ron and Laura visited campus during Homecoming 2015 weekend in October to participate in the naming ceremony for the Ron and Laura Strain Honors College and share stories of their parents' dedication and love of education.
A celebration of life ceremony is planned, with details pending.
Read more about Ron and Laura Strain here.
A video interview with the Strains as well as more information about the Ron and Laura Strain Honors College is available at www.uindy.edu/honors.