Interprofessional event demonstrates benefits of collaboration in healthcare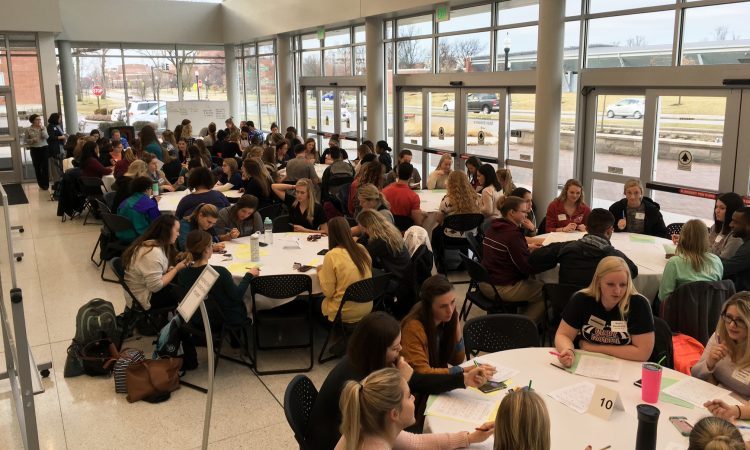 Nearly 200 students and faculty from a wide range of health professions joined together for "Who is That on the Elevator?," an inaugural student Interprofessional Education (IPE) event designed to increase awareness among students about roles and responsibilities of healthcare professionals within the healthcare environment. The event is part of an ongoing focus on interprofessional education and practice through evidence-based strategies.
Undergraduate and graduate students from the College of Applied Behavioral Sciences, School of Nursing, College of Health Sciences and Shaheen College of Arts & Sciences participated in small group discussions and case studies to learn about each other's roles.

Briyana Morrell, an assistant professor with the School of Nursing, said interprofessional education is one way to prepare students to collaborate as they enter a healthcare workforce that is moving away from the traditional model of interacting with patients separately.

Related: Simulation exercise helps students focus on interprofessional teamwork
"Our goal is that students would know who it is they will work with, what it is that they each do, and how they can work together as a team to improve patients' health status and well-being. With a purposeful, team approach, healthcare providers deliver coordinated care in any setting, inpatient or outpatient," Morrell explained.
Danielle Sparling '20 (nursing) appreciated the focus on at-home implementation strategies for occupational therapy, as well as the role of preventative strategies in improving public health.
"Hearing how different professions assessed and reacted to the case studies was my favorite part, because it gave real examples that can come into play in the workforce," Sparling said.
Morrell pointed out that important details of patient care can be missed under the traditional healthcare model of caregivers working in "silos." The interprofessional solution is a more collaborative approach.
The interprofessional initiative is just one example of the benefits that University of Indianapolis students receive as a result of the partnership with Community Health Network.
"The University of Indianapolis is committed to ensuring that our health profession students are well prepared to work in the evolving healthcare environment," said Gurinder Hohl, partnership director for the University of Indianapolis and Community Health Network.
"Interprofessional education is so important in today's healthcare environment. Professionals from multiple disciplines practice together to deliver care and services to patients every day, but we didn't all learn together and this is what IPE does," said Beth Sims, DNP, RN, Community Health Network Director for Nursing Academic Development and the Nursing Academy.
Students left the exercise with a deeper appreciation for their own professions, as well as other disciplines.
"I love the sense of community that comes along with nursing. This event reinforced how nurses look at a patient holistically compared to focusing on just one area," Sparling said.

Amy Rohr '19, a public health student, said the experience left a lasting impression.

"I learned that it is extremely important to work with other professions in order to find solutions to problems. This experience helped me understand the importance of working in groups," Rohr said.
This inaugural event will be followed by Interprofessional Education Week in October 2018.