University supporter honored for philanthropy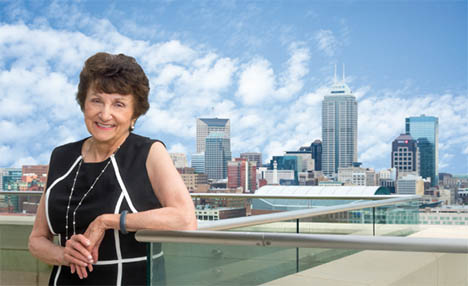 Yvonne Shaheen is retired as CEO of Long Electric Co. and has served as a leader and volunteer with many local nonprofit organizations.
Longtime University of Indianapolis trustee and supporter Yvonne Shaheen has been recognized for her generosity and civic leadership with a statewide Lifetime Achievement Award, presented Wednesday by the Association of Fundraising Professionals-Indiana Chapter at its annual Indiana Philanthropy Awards dinner.
Among her many contributions to the community and the university, Shaheen is the chair of the ongoing Campaign for the University of Indianapolis, and she made a $5 million gift earlier this year to support the Riad and Yvonne Shaheen College of Arts & Sciences. The university nominated her for the AFP award.
The event program described her as follows:
Yvonne Shaheen has been a member of the University of Indianapolis Board of Trustees for nearly a quarter century and is widely sought for her knowledge and wisdom in philanthropy. In addition to her impact at the University of Indianapolis, Yvonne has worked with and helped raise contributions for nonprofits all around Indianapolis. The Indianapolis Symphony Orchestra, Teachers' Treasures, Indianapolis Children's Museum, Women's Fund, WFYI Public Media, Immigration Center, Greater Indianapolis Progress Committee and Indiana Sports Corp are grateful for her guidance. For decades, she has been considered an angel for organizations in Indianapolis, motivating volunteers, mentoring others, and providing leadership gifts and guidance. She exemplifies a lifetime of achievement and impact on the Indianapolis community.
Click here to read more about Shaheen's life and her involvement with the university.