Conference to celebrate collaborations
Faculty will showcase interdisciplinary projects at Cross-Pollination(s)
Philosophy with Biology. History with Music. Business with Education. Education with Occupational Therapy and Athletic Training. The list goes on.
UIndy faculty members have been working together outside their departmental boxes, and more than 50 of them will share their experiences in interdisciplinary collaboration this week during Cross-Pollination(s), a conference organized by the Office of Interdisciplinary Programs & Service Learning. Eyed as an annual event, the jazz-themed two-day conference will enable faculty members to discuss and celebrate projects that break down disciplinary barriers and enrich the educational experience for students.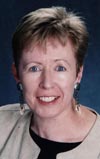 Dr. Gerburg Garmann, assistant dean for Interdisciplinary Studies & Service Learning in the Shaheen College of Arts & Sciences, said UIndy has made great strides in this area during the past year or two, awarding five innovative collaboration grants, engaging faculty across disciplines in interdisciplinary roundtable sessions and supporting faculty presentations at local, national and international interdisciplinary conferences.
"The time seemed right to allow our faculty to present their accomplishments closer to home and to a campuswide audience, and thus Cross-Pollination(s) was born," said Garmann, a professor of Modern Languages. "We hope to make it a yearly event and eventually expand it to bring in contributors from both the regional and national levels. Our goal is to make the Cross-Pollination(s) conference a major voice in the ongoing discussion of the role interdisciplinary studies should play in the transformation of American higher education."
Although registration is closed for Thursday's opening dinner and Friday's lunch, the 20-plus presentation sessions on Friday are open to faculty, staff, students and visitors. The formats range from poster presentations to discussions to live performances by the collaborating faculty. The schedule of sessions – 9-11:50 a.m. and 1-5:50 p.m. Friday on the lower level of Schwitzer Student Center – is here.
Also free and open to the UIndy community and the public at 6:15 p.m. Friday is a screening of "A Lush Life," an award-winning documentary about legendary composer, arranger and Duke Ellington collaborator Billy Strayhorn. The film will be introduced by Strayhorn's nephew Larry Strayhorn, who also serves with UIndy's Michael Cartwright as one of the conference's keynote speakers.
In a related event, Larry Strayhorn also will be on hand Monday when the Jazz Studies program presents the Ellington-Strayhorn jazz adaptation of The Nutcracker Suite. Read about that here.
More information on Cross-Pollination(s) is available here.