Director tapped to lead Summer Programs
The University of Indianapolis has selected an experienced higher-education professional to oversee its expanding catalog of summer classes and camps for students of all ages.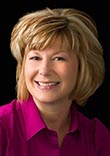 Rachelle Merkel Diaz is UIndy's first Director of Summer Programs, with responsibilities that include enhancing current offerings and developing new programming. Summer Programs at the university include:
more than 200 academic courses for students from UIndy and other institutions
immersion experiences for international students
continuing education for adult learners
a range of academic, arts and athletic camps for K-12 students
and a menu of facilities and services available for summer meetings and conferences.
Merkel Diaz previously has served in a variety of roles with Complete College America, Kappa Delta Pi Honor Society, Sigma Kappa Sorority, Wabash College and the University of Illinois at Urbana-Champaign. At UIndy, she will report to Dr. Ellen Miller, Associate Provost for Research, Graduate Programs and Academic Partnerships.
"Rachelle brings an excellent set of skills for this position, with her experience in recruitment, project management, strategic planning and relationship building," Miller said. "She is the ideal person to drive this endeavor as UIndy transitions to more of a year-round mindset."
Merkel Diaz holds a master's degree in Higher Education Administration and a bachelor's degree in Merchandising/Marketing from Ball State University. She is a native of Greensburg and currently lives in Brownsburg with her husband, Joe. Her interests include running, biking, yoga and home decor.
UIndy summer courses help students graduate on schedule and open up time to take special electives during their fall and winter semesters, with a catalog that includes courses in the arts, business, education, health sciences, humanities and physical and social sciences. Many are available in online or hybrid formats, and many correspond with Indiana's Core Transfer Library, which assures that the credits earned will transfer among the state's public college and university campuses.
More information on UIndy Summer Programs is available at uindy.edu/summer, where new courses and camps are being added regularly as they become available.