New leadership society inducts first members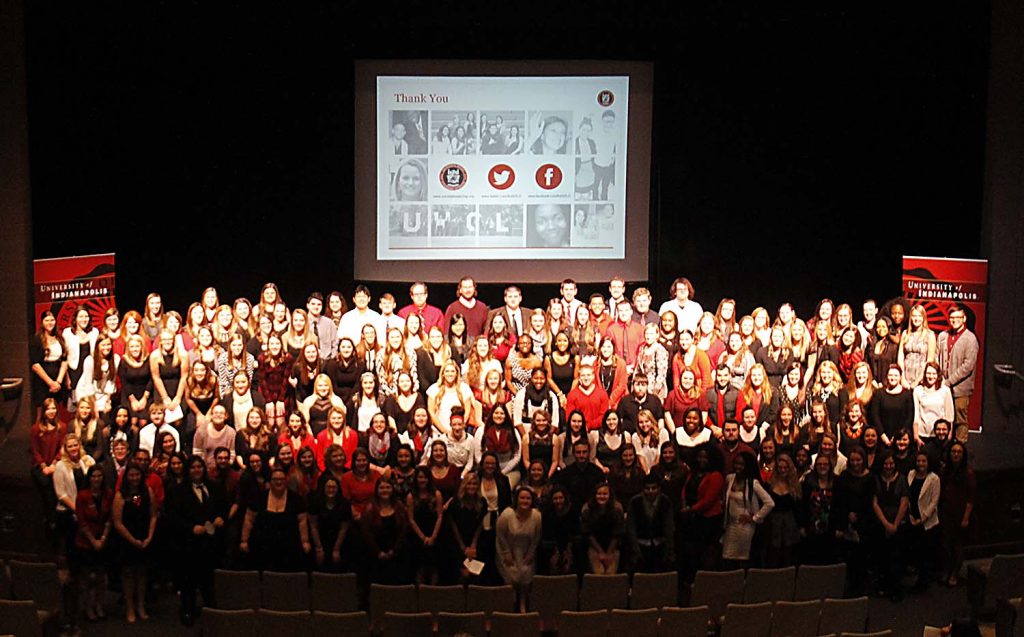 The new UIndy chapter of the National Society of Leadership and Success inducted its first cohort of students with a Dec. 12 ceremony in Ransburg Auditorium.
More than 170 University of Indianapolis students have taken a step toward greater personal and professional development, which they celebrated during a special event last weekend.
The occasion was the inaugural induction ceremony for the UIndy chapter of the National Society of Leadership and Success, the nation's largest leadership honor society with nearly 500 chapters and more than 530,000 members across the country.
The Division of Student Affairs issued invitations to all students of at least junior class status with a GPA of 3.0 or higher. The key requirements for induction are a one-time $85 fee and 12 hours of preparation that include orientation, leadership training and motivational broadcasts featuring celebrity speakers.
Of the 700 students invited, 251 signed up for the program, 171 completed the necessary steps and 165 participated in the induction ceremony. A new cohort is being recruited now for the spring semester, and the initial group will build on its momentum by coordinating campus events and community service work.
"I was overwhelmed by not only the initial response of our students, but those who completed the program," said Joe Thomas, assistant dean of students. "In working with the national office, most universities strive to induct about 50 percent of the cohort, and we had over 70 percent. Our students are to be commended."
Membership in the society, also known as Sigma Alpha Pi, is a lifetime proposition with perks that include access to more than $150,000 in annual awards and scholarships, a leadership certification that makes an impressive resume item, personal development events and materials, career services such as an exclusive online job bank, and discounts on computers, textbooks, car insurance and graduate school preparation courses. The less tangible but perhaps more important benefits include peer leadership experience, enhanced self-esteem, a network of valuable personal contacts and a range of skills applicable to the workplace.
The new NSLS chapter has a 12-member student executive board led by President Brittany Finigan, Vice President Cassidy Smith, Secretary Han Shih and Treasurer Hilary Fields. The chapter will serve as a sort of feeder system for a more intensive UIndy initiative that Thomas launched last spring, the Leadership Certificate Program, which also aims to build skills and confidence and increase campus engagement among rising student leaders.
Constructed as a non-credit course offered each January through April, the Leadership Certificate Program provides an intimate environment in which students can explore leadership theory, discuss issues with campus administrators, and discover ways they can make an impact on campus and in the broader world. The activities include reading, journaling, discussions and events.
"We've already seen activism from students who participate in these programs," Thomas said. "Their confidence increases exponentially, and they meet other students who are motivated to make change as well. They truly are making our campus and community a better place."
More information on the National Society of Leadership and Success is available here. For more information on the UIndy initiatives, visit this link and click the "Leadership" icon.