Dining Services honored for hiring practices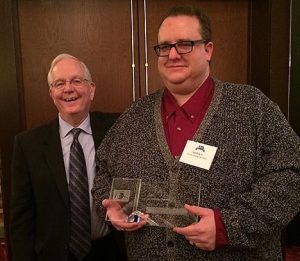 The Indiana Association of People Supporting Employment First has awarded its 2015 Employer Award to UIndy Dining Services for its practice of hiring people with disabilities.
Ted Polk Jr., UDS' human resources director, accepted the statewide award Friday at the Indiana APSE annual conference. Polk said he works with organizations such as Easter Seals, Goodwill Industries and Noble to create opportunities for those who face hurdles in finding employment, a practice that began with his father, Ted Sr., owner-director of UIndy's food operation for 41 years before retiring in 2014.
"Some people just need a chance, and they really blossom," said the younger Ted, now in his 28th year at UIndy, having started at age 14. "Work gives meaning to life."
Employment First is a national and state initiative based on the concept that employment "is the first priority and preferred outcome of people with disabilities."
UIndy Dining Services currently has 164 employees, Polk said, and to keep positions filled, he is happy to recruit new talent with disabilities. Some arrive with a job coach who helps them get acclimated to the workplace, but others don't need that assistance. Several disabled employees have enjoyed long careers and retired from UIndy.
"A lot of people don't even realize we have employees with special needs here," he said.