Peterson donates records to Mayoral Archives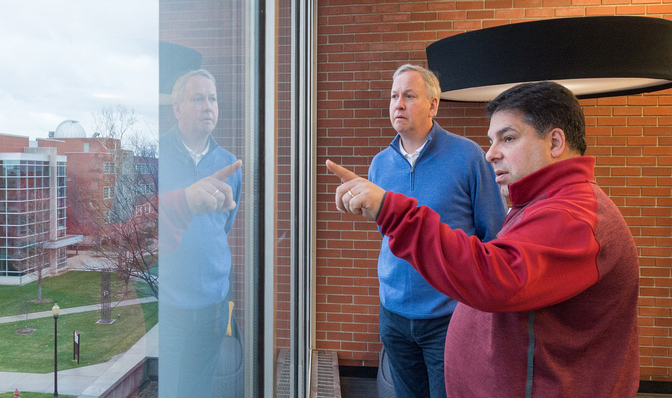 UIndy President Robert Manuel shows off the third-floor view this afternoon while taking former Mayor Bart Peterson on a tour of Krannert Memorial Library.
Former Indianapolis Mayor Bart Peterson enjoyed looking through records and artifacts from his two-term administration as he prepared to entrust them to the Mayoral Archives at the University of Indianapolis.
"It's been fun," he told a journalist from local stations Fox59 and CBS4. "You certainly don't forget those years, but they're not top-of-mind all the time, so the chance to go back through and look at some of the memorabilia, see some of the files and see the things that I was focused on … it's very nostalgic."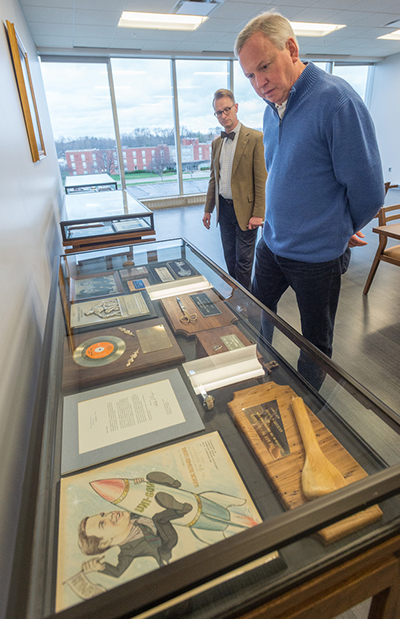 Peterson visited campus today as the final boxes of his mayoral collection were delivered to the third floor of Krannert Memorial Library, joining those of predecessors Richard Lugar, William Hudnut and Stephen Goldsmith.
"It's really about preserving the history while you still can, and I think the university has done a terrific job of that," Peterson said while touring the third-floor archives with President Robert Manuel.
Peterson is the first Democrat and the first 21st century mayor represented in the archives, which hold items dating to the early 1960s that tell the behind-the-scenes story of Indianapolis' rise to national prominence. Like the other mayors in the collection, he is a former member of UIndy's Board of Trustees. He now serves as senior vice president for corporate affairs and communications at Eli Lilly and Co.
The Peterson materials, comprising approximately 100 file boxes in total, will require several months of processing and indexing before they are available for viewing. The Lugar, Hudnut and Goldsmith collections have been digitized and may be viewed online at uindy.edu/mayoral.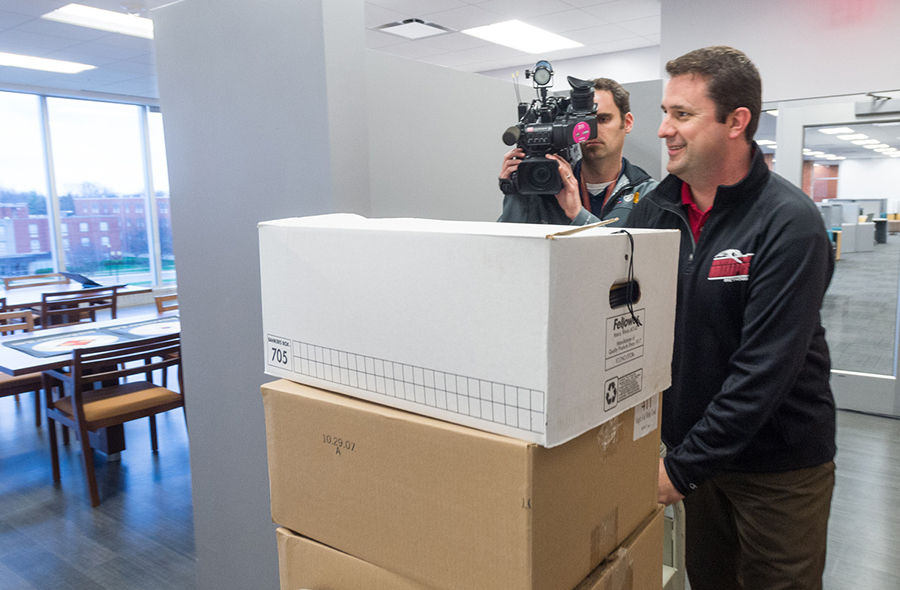 A Fox59/CBS4 photographer follows as UIndy's Andrew Kocher, Associate Vice President for Alumni Engagement, delivers the final boxes of the Bart Peterson collection to UIndy's Mayoral Archives.