New dispatch system boosts campus security
The University of Indianapolis has taken a major step forward in campus safety and security by establishing a new emergency dispatch service in partnership with the Marion County Sheriff's Department.
Effective today, the UIndy Police Department is being dispatched through the Metropolitan Emergency Communications Agency, which serves nearly all public safety departments in Marion County, including IMPD, the Indianapolis Fire Department and most other fire and emergency medical services.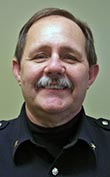 Emergency calls from the campus are now dispatched immediately to UIndy officers on patrol and to all other relevant agencies, and UIndy officers are linked to and supported by the county's entire emergency response network – 24 hours a day, seven days a week. This state-of-the-art connectivity and interoperability, which replaces a system that routed after-hours phone calls to UIndy Police radio, will vastly improve reliability, response time and even the safety of the officers themselves, Chief David Selby said.
"These are trained dispatchers with years of experience," Selby said. "They're going to know where our officers are, and at night, there will be someone in dispatch looking out for them."
To further enhance efficiency and prioritize calls, emergency and non-emergency requests will be handled through different channels.
Here are the numbers to remember:
Emergencies: 911 (9-911 from a campus landline)
Calls about fires, medical crises, serious crimes in progress and other urgent safety issues will go directly to MECA dispatchers, who immediately will notify UIndy Police and other relevant agencies.
Non-emergency assistance: 788-3333 (or x3333 from a campus landline)
Calls for timely but less urgent matters, such as requesting a late-night safety escort or assistance with a dead battery or locked vehicle, will go to MECA's non-emergency dispatchers for response by UIndy Police, to avoid interfering with emergency runs.
Administrative services: 788-3386 (or x3386)
Calls about parking issues and general information will be answered by UIndy Police staff during business hours.
Selby and Lt. Hailey Padgett-Riley arranged the partnership with Sheriff John Layton, who is providing the service free of charge.
"This is huge for us," Padgett-Riley said.