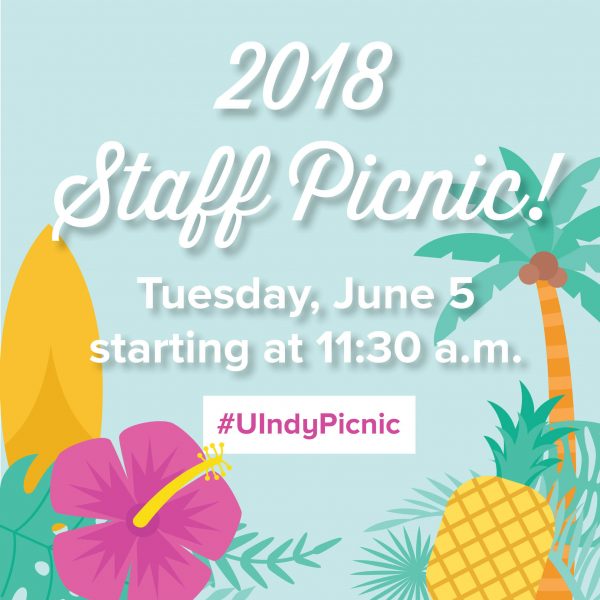 Aloha! All UIndy staff members are invited to attend the annual staff picnic, an opportunity to recognize staff for their years of service. Mingle with co-workers, enjoy lunch together and relax from work in the middle of the day.  This year's theme will be a luau!
Tuesday, June 5 at 11:30 am
Outside, near the west side of the ARC
(*Rain location: UIndy Hall)
Each staff member in attendance will receive one raffle ticket for entry in the prize drawing.
Congratulations to all staff who will be celebrating a milestone!
20 years of service –
Kathy Elliott, Registrar's Office
Kay Gunyon, Admissions
Kelly Smelser, Information Technology
Stephen Smith, Center for Advising & Student Achievement
Amber Weishaar, Information Technology
15 years of service –
Heather Almond, Advancement Research
Lisa Battiato, Engineering, Mathematical Sciences, Physics & Earth Space Science
Chester Cheeseman, Facilities Management
Barry Fleck, Facilities Management
Carol Hatfield, Registrar's Office
Jody Rose, Teacher Education
Kory Vitangeli, Campus Life
10 years of service –
Marisa Albrecht, Krannert Memorial Library
Joy Armstrong, Health & Wellness Center
Julie Cripps, Office of Accreditation
Elizabeth Dant, School of Business
Stanley Gouard, Athletics
John Higgins, Athletics
Chivonne Kelly, Financial Aid
Charles Kueser, Information Technology
Lori Love, Financial Aid
Margaret May, Honors College & Modern Languages
Janet Robinson, Human Resources
Heini Seo, College of Applied Behavioral Sciences
Martin Tormoehlen, Information Technology
Janna Ulbright, Registrar's Office
Michelle Williams, School of Business
Trisha Wlodarczyk, CELL
5 years of service –
Sabrina Beasley, Facilities Management
Paul Corsaro, Athletics
Rebecka Fee, Center for Aging & Community
Maura Frazier, Admissions
Meghan Hower, Information Technology
Matthew Jones, Center for Advising & Student Achievement
Jonathan Keeney, Financial Aid
Christopher Molloy, University Advancement
Daniel Mulvaney, Campus Police
Jennifer Outlaw, Admissions
Jason Reed, Athletics
David Selby, Campus Police
Seth Sigman, Campus Police
Mark Vopelak, Krannert Memorial Library
Jill Walden, President's Office
Laura Walden, Communications & Marketing
Corey Wilson, Professional Edge Center
Michelle Worthington, Graduate & Adult Learning Enrollment
Breanna Young, College of Applied Behavioral Sciences
Stephanie Zwickl, Registrar's Office
Mark your calendars for June 5 and use #UIndyPicnic to share your photos on social media!