Speech Team places third in state tournament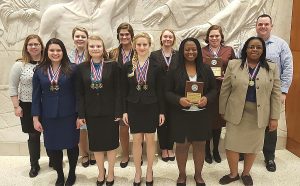 Comprising this year's Speech Team are (front, from left) Jessica Carroll, Christie Gorka, Carolyne Wilhelm, Brianna Jones, Xybrina Wilson, (rear, from left) Director of Forensics Rebekah Watson Gaidis, Vanessa Hickman, Brooke Abbott, Katie Ayers, Katie Beverley and assistant coach Chad Woodward.
The UIndy Speech Team claimed third place in the team sweepstakes Saturday at the Indiana Forensic Association State Speech Championship at Marian University.
The winners included:
Katie Ayers – Radio Speaking, first place
Brooke Abbott – Programmed Oral Interpretation, second place; After Dinner Speaking, fifth place
Katie Beverley – Lee Horn Spirit of Excellence Award; Rhetorical Criticism, fifth place; Informative Speaking, fifth place
Jessica Carroll – Novice Persuasive Speaking, fifth place; Novice Extemporaneous Speaking, fourth place
Christie Gorka – Novice Prose, fourth place; Novice Poetry, fourth place; Novice Dramatic Interpretation, third place
Vanessa Hickman – Novice Poetry, third place; Novice Prose, third place
Vanessa Hickman and Brooke Abbott – Duo Interpretation, third place
Carolyne Wilhelm – Informative Speaking, fourth place; Persuasive Speaking, fifth place
Xybrina Wilson – Novice Poetry, fifth place
Coached by UIndy alumna Dr. Rebekah Watson Gaidis, Assistant Professor and Director of Forensics in the Department of Communication, the team looks ahead to the Novice Nationals, March 11-13 at the University of Louisiana-Lafayette, and the National Forensics Association National Championship Tournament, April 1-18 at Ball State University in Muncie.