Men's team marks a century of basketball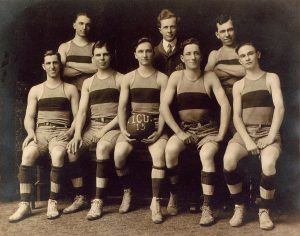 The 1915-1916 men's basketball team was the first to represent UIndy (then known as Indiana Central University) in intercollegiate play. According to the university archives, pictured here from left are (front row) Ernest W. Emery, Fred Dennis, Allen Good, Merril Cummings, Will Morgan, (back row) Elmer Clyde Reidenbach, Coach Warren G. Bailey and Wilbur Montgomery.
Wednesday's Pack-the-House Night will be a celebration of UIndy basketball and the university's partnership with Community Health Network
Wednesday night is no ordinary occasion for the Greyhound basketball teams as they play their final games of the regular season.
A supersized crowd of alumni and other fans is expected for the annual Pack-the-House Night observance in Nicoson Hall, with dinner, kids' games, facility tours, an iPad prize drawing and other attractions available across Hanna Avenue in the UIndy Health Pavilion.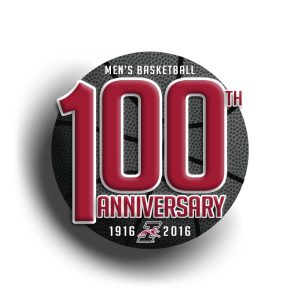 It will be Senior Night for the women's team (8-19, 6-11 GLVC), which seems to be hitting its stride after winning two of its past three games. And for the men's team (19-6, 13-4 GLVC), which has earned a first-round bye in the upcoming GLVC tournament, the game will cap the program's 100th anniversary season.
That's right: Although intramural hoops appeared earlier on campus, the 1915-1916 men's squad played the first intercollegiate basketball schedule for the young institution then known as Indiana Central University.
There's not a wealth of information about the team, but apparently they made an impression. According to author Frederick D. Hill's university history Downright Devotion to the Cause, they were the first team to qualify for varsity letters ("C" for "Central"), although that decision was made retroactively in 1924. The coach, Warren G. Bailey, was a 1914 graduate and a history instructor. In addition to the players in the above photo, the book includes the names R. E. Kyman, Ralph Waldo Jr. and J.B. Good.
Click here for more information on Pack-the-House Night, which includes an open house at Community Health Network's new physical therapy and rehab clinic in the Health Pavilion. Fans can register for dinner, the basketball games and other festivities at this link.
Special thanks to University Archivist Christine Guyonneau for her research.