Mass Ave's Phoenix Theatre taps UIndy talent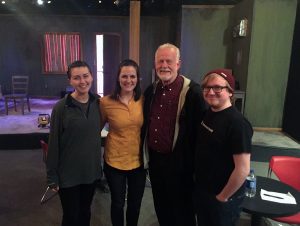 Several members of the UIndy community — specifically the Department of Theatre — hold key backstage positions in the new production at Indianapolis' Phoenix Theatre.
On Clover Road by Stephen Dietz opened Thursday and continues through April 10 at the nonprofit theater in the Mass Ave arts district.
As seen from left in the photo above, the crew includes: senior Theatre major Ellie Delap as assistant director, Theatre alumna Chelsey Wood Stauffer as stage manager, Associate Professor Jim Ream as set designer and senior Theatre major Connor Avery as assistant lighting designer. Behind the camera for this shot was adjunct faculty member Laura Glover, who serves as lighting designer.
On Clover Road is a thriller about a mother trying to rescue her daughter from a religious cult. More information is here.