Students choose service for Spring Break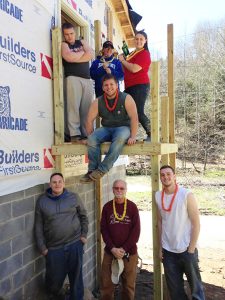 Last week, while many college students were kicking back on a distant beach or the nearest couch, a group of UIndy volunteers spent their Spring Break repairing homes for impoverished residents of eastern Tennessee.
This was the 33rd consecutive year in which UIndy students provided manpower through Appalachia Service Project, a nonprofit ministry based in Johnson City, Tenn. And it was the 15th annual trip for the Rev. Dr. Lang Brownlee of the Office of Ecumenical & Interfaith Programs, who was accompanied by students Drew Deak, Robbie Hadley, Stephanie Jones, Barbie Kimmel, Grant Miller and Brian Snyder.
Jones, a sophomore Religion major, recalled helping an elderly client named Reba.
"We dug a trench around her house to keep water from her foundation, and we also started building a smaller back porch as a second exit to her home," Jones said.
"She was telling stories of her old house, and she could not believe we were all there to help her out. One thing that she said stood out to me when she first walked up and greeted us: She said that we would be blessed for helping her, and she was right. We all learned a lot about service and being a team that week."