Marc Milne publishes research on new species of spider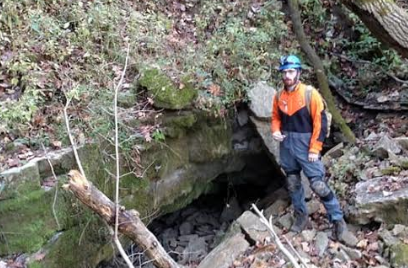 Marc Milne, assistant professor of biology, published "A new species of spider (Araneae, Linyphiidae, Islandiana) from a southern Indiana cave" in Subterranean Biology 26: 19-26. His work was covered by Fox News, MSN Australia and New Zealand, the CBC (Canada) and Gizmodo, Smithsonian.com and highlighted in the Pensoft blog. Read more about his research here.
In June, Dr. Milne presented research conducted with Baothu Dinh '18 (biology) at the 2018 American Arachnological Society conference in Ypsilanti, Michigan. The research was done in collaboration with researchers from the University of Florida on the effect of wildflowers on increasing pollinator diversity and abundance in agricultural fields.

In March, Dr. Milne and four undergraduate students presented research at the 2018 Indiana Academy of Science Conference. The students and their presentations were: Emily Stern '19 (environmental science): "The effect of cutting and burning on spider abundance, composition, and diversity in North Carolina," Baothu Dinh '18 (biology): "The effect of wildflower strips on spider abundance and diversity in Florida," Brodrick Deno '18 (environmental science): "Identifying an unknown Agyneta sp. via DNA sequencing," and Lucas Frandsen '19 (human biology): "An additional 100+ new spider distribution records in Indiana."
Out of the darkness: A new spider found deep within an Indiana cave