UIndy undergrad lands Fulbright scholarship
Sociology/philosophy major will study pro-democracy movement in Morocco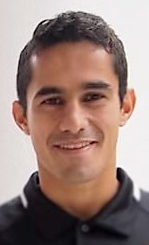 UIndy senior Ahmed "Zak" Mitiche was getting a sandwich Wednesday in Schwitzer Student Center when he checked his email.
"I was ecstatic, I was shocked, all of those things," says the Pike High School graduate, a double major in Sociology and Philosophy.
The long-awaited news was that Mitiche had been awarded a grant from the Fulbright U.S. Student Program and seems to be the first University of Indianapolis student to do so in the institution's century-plus history.
Recipients of the prestigious State Department-funded honor, according to his award letter, have gone on to become heads of state, judges, ambassadors, cabinet ministers, CEOs and university presidents, as well as leading journalists, artists, scientists and teachers. They have included 54 Nobel Laureates, 82 Pulitzer Prize winners, 29 MacArthur Fellows and 16 Presidential Medal of Freedom recipients.
"It's exciting to think about myself among the ranks of these great people who have done something amazing in the world," says Mitiche, who will turn 22 on Wednesday. "I try to be realistic. I know this will bring me opportunities when I apply to grad schools."
Zak is the third of four children born to Farid and Fouzia Mitiche, who emigrated to the U.S. from Algeria when he was 2. He will pursue his Fulbright project in neighboring Morocco, where Arab Spring demonstrations in 2011 and 2012 led to continuing democratic reforms without sparking the kind of violence and political instability seen across the rest of northern Africa and the Middle East.
Change without Chaos? Perceptions among Young Moroccan Adults Post-Arab Spring is the title of the project, which Mitiche hopes to begin in August or September with in-depth interviews of 30 to 40 urban Moroccans between the ages of 18 and 36 — the segment most likely to have participated in the demonstrations. He thinks his findings could be instructive to advocates of democracy and stability within the region and around the world, and he hopes to publish them in a political sociology journal and potentially use them as the foundation for a doctoral thesis.
Along the way, he also will take on some service work and try to advance the broader Fulbright mission of building ties and mutual understanding between U.S. residents and people in other countries.
A standout on the Greyhound soccer team, Mitiche says he is "very, very thankful," first to God and next to the many faculty members and others in the UIndy community who offered advice and coached him through countless revisions of his project proposal.
One of them was Dr. Amanda Miller, associate professor of Sociology, who is serving as his designated Fulbright advisor. She calls Mitiche "one of the most well-rounded individuals I've ever met," noting that his four years at UIndy have included launching two student organizations, interning in Washington, D.C., studying abroad in Spain, performing service work in Haiti and presenting at a national sociology conference.
"Zak's intellect, faith, ability to connect with others and sense of humor all contribute to his success," she says, "but the first word that comes to mind is 'kind.' He truly embodies our motto of 'Education for Service' and not only believes it, but lives it every day."