Student receives statewide award for service
Mohammed Almalak came to UIndy from Saudi Arabia for a business degree, and he will claim his diploma Saturday.
But Almalak, known to friends as "Mo," got more out of his Greyhound experience, developing a taste for community service that has benefited several local organizations and earned him a statewide award last week.
The College Career Center Consortium of Indiana presented its annual Paul W. Gabonay Volunteer Service Award to Almalak at the Community Campus Forum and Service Expo. The honor, named for UIndy's former career services director, recognizes an Indiana undergraduate who best exemplifies the qualities of integrity, commitment to serving those in need and dedication to fostering the growth and gifts of others.
For Almalak, the lesson boils down to this: "The more you give, the more you will get."
His first community work took place through a service-learning course in the summer of 2014, when he spent more than 90 hours at the Burmese-American Community Institute, tutoring teens in English and math, helping them with college and scholarship applications and developing a business plan for immigrant women planning to start a home daycare center.
From there, it really took off:
In another service-learning course, Almalak worked at the Shepherd Community Center, helping in the kitchen and spearheading clothing and canned food drives for needy Eastside residents.
Again at Shepherd, through a project management course, he and several other students developed a donation campaign to score contributions from large local businesses for a sponsor-a-child program.
Last year for the Boys & Girls Club, he provided homework help and supervised recreation for elementary and middle school students. "They taught me how to play basketball, and I taught them how to play soccer," he says.
At SENSE Charter School in Fountain Square, he helped to organize the food pantry, tutored kids in math and reading and played with them at recess.
And the list goes on.
Almalak is now poised to graduate, with a major in Business Administration and minors in Operations & Supply Chain Management and Civic Engagement & Community Leadership. His wife and 2016 classmate, Bashayr Musayri, is completing her bachelor's degree in Respiratory Therapy.
The couple, who are expecting their first child in November, will head home to Saudi Arabia later this month to begin their new careers. Though Mo may return to the U.S. at some point for an MBA, he looks forward to putting his service skills to work in his homeland.
"I want to change the community in my country back home," he says. "Now I have experience with that."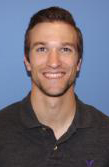 At the April 28 forum, organized by the Center for Service-Learning and Community Engagement, Almalak also was named UIndy's Outstanding Service-Learning Undergraduate Student. The Outstanding Service-Learning Graduate Student award went to Doctor of Physical Therapy candidate Brett Carroll , whose service work has included working with dementia patients.