Olympian Joyner-Kersee meets track camp kids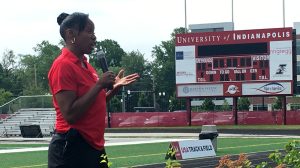 Track and field legend Jackie Joyner-Kersee speaks to young athletes earlier today at Key Stadium during USA Track & Field's first youth camp.
Not every day does one receive life coaching from Sports Illustrated's "Greatest Female Athlete of the 20th Century," but that's what happened for a group of budding athletes today at UIndy.
The legendary Jackie Joyner-Kersee, joined by fellow four-time Olympian Aretha Thurmond, spoke with scores of local kids ages 9-18 at the inaugural USA Track & Field Development Camp, one of many summer camps and conferences hosted by the University of Indianapolis.
The winner of three gold medals noted that she was pleased to be back in the Circle City, where she set a world record in the long jump in 1987.
"But it's really not about that," Joyner-Kersee told the young people gathered at UIndy's Key Stadium. "It's really about each and every one of you being here today and tomorrow, learning as much as you can. While learning, make it fun, enjoy what you do, but also listen to what they're asking you to do. … Work hard in everything that you are trying to accomplish. If it's in the classroom, work hard. You got homework? You have to prepare. It's the same way on the athletic field."