Archives fellow honored for work as mayor
UIndy Visiting Fellow Greg Ballard finished his tenure as Indianapolis mayor in January, but he is still receiving kudos for his actions while in office.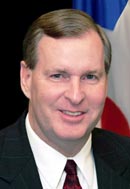 This spring, the international Robotics Education & Competition Foundation inducted Ballard into its STEM Hall of Fame under the Heroes category, which honors contributions in guiding young people toward studies and careers in science, technology, engineering and mathematics.
The foundation coordinates the annual VEX Robotics Competition, which is active in 40 countries and culminates in the three-day VEX Worlds gathering. This year's finals in Louisville drew 1,000 teams from over 30 nations and included an awards ceremony honoring the former mayor, whose efforts in the field have included establishing and promoting the City of Indianapolis VEX Robotics Championship.
"I've seen so many students' lives changed as a result of these competitions," Ballard says. "It is humbling to have been a part of it all."
The fourth annual IndyVRC took place in January and attracted over 160 teams from Indianapolis elementary, middle and high schools. Building on the city's success, the Indiana Department of Workforce Development is partnering with the TPF on the Indiana State Robotics Initiative, which will extend the push to schools statewide.
This month, Ballard was honored by the Indy Rainbow Chamber of Commerce for his advocacy on gay rights issues. The chamber supports businesses owned or operated by members of the local LGBT community and their allies.
In 2015, Ballard publicly opposed the state's controversial Religious Freedom and Restoration Act, which sparked a national backlash and concerns about future business development in the city and state. His personal efforts were credited with reassuring business leaders about the city's commitment to diversity and inclusiveness.
In the wake of the controversy, Ballard served as grand marshal of the city's 2015 IN Pride Parade.
After two terms as mayor, Ballard joined UIndy in April as a visiting fellow of the Institute for Civic Leadership & Mayoral Archives. In that position, he is engaging local and national leaders on issues facing U.S. cities while advancing the Mayoral Archives as a resource for officeholders, community leaders, researchers and students. His work focuses on themes that marked his years in office, including clean-energy solutions to public needs, new approaches to urban transportation and the value of global perspective and international collaboration.