Trump-Pence news keeps UIndy experts busy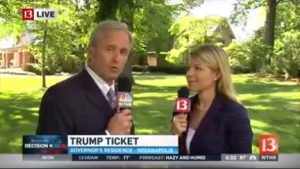 Indiana found itself in the national spotlight this week as Republican presidential candidate Donald Trump selected Gov. Mike Pence as his running mate. Fortunately, UIndy faculty were available to provide perspective on an unusual election year that keeps getting more unusual.
"(Often) you have the 'October surprise' right before the general election," Assistant Professor of Political Science Laura Albright told WIBC host and IndyPolitics.org editor Abdul-Hakim Shabazz. "I think in Indiana we're coining a 'July surprise,' the fact that in between the primaries — which were pretty crazy in themselves — and the national conventions, you would think this would be quite a lull, and in fact, everything's going on in the Hoosier state right now." Listen to the full 15-minute interview here.
Dr. Albright granted over a dozen interviews this week with such outlets as WTHR, WISH, WTTV and WXIN. Perhaps most notable were an Indiana Public Broadcasting report that aired nationally this morning on NPR's Weekend Edition Saturday, as well as a story earlier in the week by Bloomberg News that also was shared by Yahoo! News.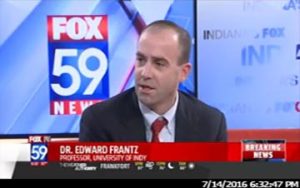 Also providing analysis was Professor of History Edward Frantz, who gave a three-minute interview in the WXIN studios and also joined colleague Albright in an hour-long panel discussion Friday on Bloomington public radio station WFIU-FM.