Mark O'Connor, UIndy Jazz Faculty performance reviewed on ExploreDance.com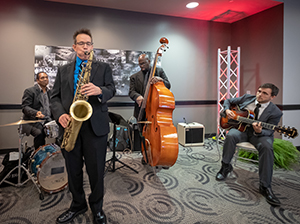 Rita Kohn profiled UIndy Jazz faculty for an article posted on Exploredance.com.

Excerpt:
The UIndy Jazz Faculty Debut program on Sept. 24 quickly moved from entertaining to engrossing with audience engagement forward from Charlie Parker's 1945 happy blues tune, "Billie's Bounce," to a highly visual arrangement by Ernest Stuart of the standard "Bye, Bye Blackbird." 
On stage were: saxophonist/composer/bandleader Mark O'Connor, director of Jazz Studies at the University of Indianapolis, and five adjunct professors of Jazz, who are gigging and composing when not teaching: Jen Siukola, trumpet; Ernest Stuart, trombone; Steven Jones, piano; Brandon Meeks, bass; and Kenny Phelps, drums.
NOTE: Photo shows the Faculty Jazz Ensemble at the Alumni Honors and Recognition Dinner Sept. 28, 2018: Mark O'Connor, saxophone; Joel Tucker, guitar, Brandon Meeks, bass, Kenny Phelps, drums.