Story on UIndy student draws big response
See IndyStar story, video and photo gallery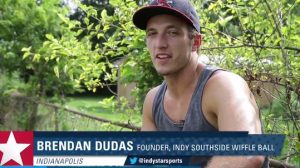 Indianapolis Star sports columnist Gregg Doyel is known for his ability to find compelling tales where others don't think to look, but even he was daunted by the story of UIndy business major and baseball player Brendan Dudas.
It begins with the elaborate wiffle ball facility Dudas and friends built in his parents' Southside backyard, home to an organized eight-team league that helps young men from the area stay in touch with their high school pals. It ends with Dudas and his girlfriend — both full-time college students — assuming guardianship of two disadvantaged young nephews who have found love and support through their families and the Indy Southside Wiffle Ball league.
There's much more, but you have to read the story to take it all in. Doyel initially wasn't sure how to put the pieces together.
"I was stressed before writing this story, and I don't get stressed," says the former national columnist for CBSSports.com. "But this story was so awesome, and so unique — the field is a story by itself, and yet compared to the family stuff, the field was relatively insignificant. How do I explain all of that, and yet still point out how special the field is too? When I finished the opening section of the story, I cried in relief. I seriously did."
Dudas and girlfriend Madison Harris, both Perry Meridian High School grads, weren't asking for financial or legal help with the complicated challenge they have taken on, but since the story appeared over the weekend, the offers have been pouring in. A donation website has collected more than $1,500 so far, and that's not all.
"Well, the story goes on the Internet on Saturday at about noon, and within two hours I'd heard from three different lawyers offering free services to Brendan," Doyel says via email. "By Sunday night, that count was up to six, plus two free (and delivered) meals a week from a local chef, plus lots of offers to send money to the family. Best reaction ever."
UIndy News reached out to Brendan to get his take on the whole affair, but he wasn't able to talk right away — he's spending the week volunteering at a camp for kids with muscular dystrophy.