Board chair named to Indiana Living Legends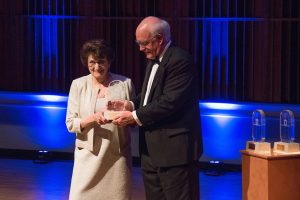 Longtime UIndy trustee Yvonne Shaheen receives the Indiana Historical Society's 2016 Indiana Living Legends award from IHS Board Chair David West. (IHS photo)
Trustee Yvonne Shaheen honored for philanthropy, volunteer work
In honor of her community leadership and generosity, the chair of UIndy's Board of Trustees has been named to the Indiana Historical Society's roster of Indiana Living Legends.
Philanthropist Yvonne Shaheen, who joined the UIndy board in 1992, received the honor in July at IHS' annual Indiana Living Legends Gala at the Eugene and Marilyn Glick Indiana History Center.
Shaheen, retired CEO of Long Electric Co., has distinguished herself as a generous supporter and adviser to many central Indiana arts, educational and nonprofit organizations. Among her many contributions to the university, Shaheen is the chair of the ongoing Campaign for the University of Indianapolis, and she made a $5 million gift last year to support the Riad and Yvonne Shaheen College of Arts & Sciences.
The former schoolteacher also serves on boards of directors for the Arts Council of Indianapolis, the Central Indiana Corporate Partnership, Community Hospital, the Greater Indianapolis Chamber of Commerce, the Indianapolis Symphony Orchestra, United Way of Central Indiana, WFYI Public Media and other groups. Shaheen also has been linked closely with organizations such as the Children's Museum of Indianapolis, where several dinosaurs on display are named for members of her family.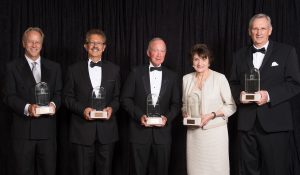 The 2016 Indiana Living Legends honorees, selected by a committee of civic and corporate leaders, are Central Indiana Community Foundation President and CEO Brian Payne, Indianapolis Children's Choir founding director Henry Leck, former Indiana Governor and Purdue University President Mitch Daniels, civic and corporate leader Yvonne Shaheen and historian James Madison. (IHS photo)