University of Indianapolis students to hold voter registration drive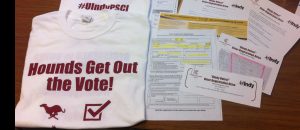 A group of students at the University of Indianapolis is focused on increasing voter registration for students and neighbors in the next two weeks through the political science class "Campaigns and Elections." The voter registration campaign and service-learning project "UIndy Votes!" was created, organized and implemented by the students with a grant from Indiana Campus Compact.
About 20 students are visiting nearly 500 homes in the University Heights neighborhood, according to Assistant Professor of History & Political Science Laura Albright. The juniors and seniors want to reach out to college students and community members and help them register to vote, confirm their voter registration and provide information about the voting process. The students will also analyze the effectiveness of the voter registration campaign to inform future registration strategies.
"Political participation, like democracy, is a group effort," says Albright, "and these projects connect the students to the community and both benefit as a result."
The campaign makes it easier for students and others to register to vote through a strategy spanning multiple days at varying hours in popular places near the University campus. The voter registration drive will also incorporate a door-to-door canvassing effort in the extended campus community of University Heights from September 26 through October 7.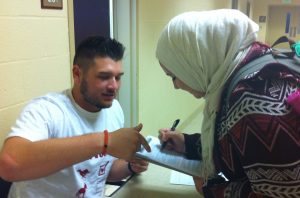 National Voter Registration Day was September 27, and the last chance to register to vote in the upcoming election is October 11.
"This is a way for the students in my class to get involved in the election without having to choose one party," says Albright. "Many of my students have never voted before, and especially not in a presidential election, so they are really excited about this opportunity. They want to show those on campus and in the surrounding neighborhood that millennials do care about the political process and that voting is important."
After October 11, students in Dr. Albright's class will be visiting Brandes Elementary to meet with a group of 5th and 6th graders to share the importance of voting and help them to learn about the election.