University forensics team identifying migrant remains, addressing humanitarian crisis
A University of Indianapolis research team in January continued the painstaking work to identify the remains of dozens of migrants who perished during the rough trek in to the United States.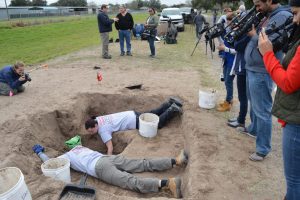 Since 2013, Dr. Krista Latham, an associate professor of biology and anthropology, has led a team of University volunteers to Texas with hopes of identifying the remains of people who were buried in unmarked plots. The dead are migrants from Latin America discovered by landowners along the border between Mexico and the United States.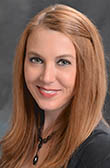 "This is not only a scientific mission, but there also is a moral obligation to this work," Latham said. "This has turned in to a human rights mission."
"Many of these people come from a very marginalized population …it's very difficult to both identify an individual and bring them home," she added.
Local authorities in Texas do not have the facilities, personnel or budget to process and identify the growing number of remains discovered in recent years. Latham and her team work with Texas State University on the identification and notification of family members, when possible. The scope of the project is large and daunting: Teams have identified about 60 people in various locations in recent years, yet hundreds more remain buried along the U.S.-Mexico border in local cemeteries.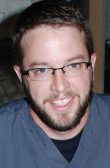 Graduate student Justin Maiers has joined Latham on the mission for the past five years. He said the project takes an emotional toll on students. University students are blogging about their experiences at beyondborders.uindy.edu.
"The emotional stuff is harder to prepare for, because you're not exactly sure what you're going to experience," said Maiers, who studies anthropology at the University of Indianapolis.
Latham said the project is a "life-changing experience" for her students as they understand the humanitarian consequences to their work as well as the larger global implications of the situation.
Brooks County, where Latham's team is working, is one of 32 border counties in Texas struggling with a solution. Since 2015, the Texas Forensic Science Commission has been working toward a plan that focuses on improving communication between local and federal officials and foreign governments in places like Mexico, Argentina and Central America.
The Commission is working with state legislators to provide resources to address the issue, and state medical examiners have been asked to donate their time and services.
The work of Latham and other forensic teams has drawn local and national attention to the crisis. The links below provide a sampling of media reports on the project.