Stephen Kolison, Jr. named as University of Indianapolis Executive Vice President and Provost
(INDIANAPOLIS) – Stephen Kolison, Jr., Ph.D., a distinguished higher education executive, scholar and researcher, has been appointed Executive Vice President and Provost for the University of Indianapolis. Kolison's appointment follows an extensive national search and comes at a time during a strong trajectory of growth and expansion for the University.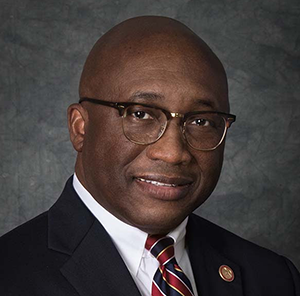 Kolison, who since 2008 has served as the associate vice president for Academic Programs, Educational Innovation, and Governance for the University of Wisconsin System Administration, will lead more than 550 faculty for the University, which boasts an enrollment of more than 6,500 undergraduate and graduate students and is ranked among the top Midwest Universities by U.S. News and World Report.
He brings to the role a strong record of research and success in implementing system-wide policies to increase degree productivity, expand learning opportunities for non-traditional students and foster innovative and effective teaching methods to increase student learning and educational success. He also has a proven record of securing research funding as principal investigator and co-principal investigator, including more than $25 million in grants from various sources while at Tennessee State University and at Tuskegee University.

"Dr. Kolison comes to us at the right time in our institutional history," said Jonathan Evans, Ph.D., co-chair of the provost search committee and associate professor of philosophy and religion. "His strong track record in building academic programs and supporting faculty development, coupled with his exemplary collaborative skills and thoughtfulness, will positively influence our campus and strengthen the intellectual life and impact we provide."
"I am excited to join the University of Indianapolis family and to not only lead, but also to work closely with faculty and other university constituents as we refine the institution's intellectual life," Kolison said. "I look forward to building upon UIndy's environment of academic excellence and the discovery that will fortify the academic mission, stimulate research and enhance the academic experience of our students. This is a compelling opportunity."
University President Rob Manuel added: "I am extremely grateful for the dedication and diligence shown by our provost search committee and the entire campus community, who represented our University well as we sought the right person for this role. We're excited to bring Dr. Kolison in to the Greyhound family."
A native of Liberia, Stephen earned a doctor of philosophy in forest economics and master of science in forest economics and marketing from Iowa State University of Science and Technology and a bachelor of science degree in general forestry from the University of Liberia, Monrovia. He holds certificates from Harvard University in negotiations and leadership; crisis leadership in higher education; and educational management. His research has been published extensively in top, peer-reviewed journals. He remains a sought-after keynote speaker on topics such as the growth of online learning, environmental safety and trends in the forest industry. He also is active in the Association of Public and Land Grant Universities.
"Dr. Kolison is the ideal candidate to fill this role because of his unique perspective on higher education systems and administrative structures," said Anita Thomas, Ph.D., dean of the College of Applied Behavioral Sciences and co-chair of the provost search committee. "He provides a strong focus on student success, and his leadership style will allow him to successfully connect with the faculty."
Kolison will begin his transition to UIndy starting April 1, 2017, and will formally assume the duties of executive vice president and provost on July 1, 2017. David Wantz, Ed .D., will continue to serve as interim executive vice president and provost through June 30, 2017.
Stephen Kolison Background
 During his time at the UW System, Kolison led a group of provosts and faculty representatives in a review of the entire baccalaureate program array offered by the System, with the goal of assessing the viability and productivity of each program and putting in place system-wide policies for addressing degree productivity. In addition, he led a group of faculty and administrators to put in place a framework to establish the UW System e-campus portal to extend opportunities to nontraditional and place-bound students to earn degrees and certificates. He revised and streamlined processes and policies for establishing degree programs in the UW System to increase efficiencies for new degree program approvals. Through his oversight of faculty and instructional development, he has advocated successfully for the continuation and enhancement of programs aimed at fostering effective and innovative teaching for increasing student learning, promoting academic quality, and expanding educational access. Working with American Council on Education, he piloted a customized leadership development program for department chairs from across the UW System.
Earlier in his career, Kolison taught for eight years at Tuskegee University, advancing to professor and serving as a faculty senator. He led TU's Forest Resources Program and under his leadership, conferred the institution's first baccalaureate degree in forestry. He served as founding dean for the Institute of Agricultural and Environmental Research at Tennessee State University. His accomplishments at TSU included oversight of a comprehensive research program focused on administration/management, program development, the hiring and evaluation of faculty and senior level administrative staff, and the planning of strategic and productive partnerships with the public and private sectors that resulted in extramural support for research and outreach activities.
About the University of Indianapolis
The University of Indianapolis, founded in 1902, is a private, liberal arts university located just a few minutes from downtown Indianapolis. UIndy is ranked among the top Midwest Universities by the U.S. News and World Report, with a diverse enrollment of more than 5,200 undergraduates, 1,300 graduate students and 400 continuing education students. The University offers a wide variety of study areas, including 100 undergraduate degrees, more than 35 master's degree programs and five doctoral programs. More occupational therapists, physical therapists and clinical psychologists graduate from UIndy each year than any other state institution. With strong programs also in engineering, business, and education, UIndy impacts its community by living its motto, "Education for Service."