Provost's Lecture: What is the biggest problem in the world?

What is the biggest problem in the world? That depends on who you ask.
University of Indianapolis Professor Dr. Peter Murphy, who teaches philosophy and religion, will address the question at the Provost's Lecture on Wednesday, Feb. 8, 2017. Register to attend here.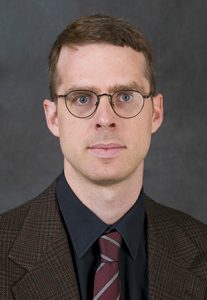 Murphy said identifying the world's greatest dilemma could vary widely depending on who you ask and how they have been affected. The answers could range from poverty and cancer to issues like abortion, climate change or nuclear weapons.

The lecture is designed to examine the way issues affect individuals and how people view their impact and opportunity to improve the situation.
"No matter what your view is on these issues, we should be able to explore these ideas together," said Murphy, who expects politics and current events to come up in the conversation.
Ethics play a large role in how people identify with societal problems and what each individual can do to impact the problem. Murphy's lecture will explore that idea.
"As we attempt to get to the biggest problem in the world, we have to examine our moral duty to do something about it," he said.
Murphy will use tools from ethics, logic and decision theory to explore approaches to answering his title question, and the connection between the answer and our moral obligations.
Hosted by the University of Indianapolis Office of the Provost, "What Is the Biggest Problem in the World?" Provost's Lecture is open to the public. It is scheduled for 4:30 to 6 p.m. in the Ruth Lilly Performance Hall of the Christel DeHaan Fine Arts Center on the University of Indianapolis campus.