Indiana schools chief shares message with future teachers at University of Indianapolis
The University of Indianapolis Student Education Association hosted Indiana Superintendent of Public Instruction Dr. Jennifer McCormick at the 3rd Annual Power of Education Conference on Jan. 28.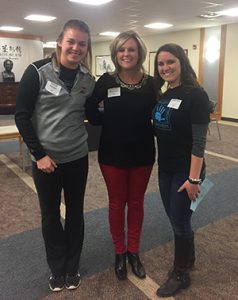 McCormick's talk focused on the future of education in Indiana. SEA organizers were thrilled to hear from McCormick at the annual conference, which celebrates the field of education by hosting sessions designed to motivate and inspire future teachers. She shared with students some of her most powerful experiences as a lifelong educator.
"I was very impressed with Dr. McCormick's plan for the state of Indiana's education system. As a future teacher, I am excited to see the changes she will make to better our education system," said Hannah Mangus, SEA Vice President.
McCormick assumed her role in leading Indiana's schools last month. Her work was recognized nationally in 2014 when she was invited to the White House to participate in The National Connected Superintendents Summit.
"Dr. McCormick provided our School of Education with a motivating and uplifting message. I am excited about the future of education in Indiana and feel valued as a teacher who is entering the field under her administration," said SEA President Shelby Hale.
"She is in it for the right reasons, to be a voice of reason for our students and our teachers in this great state of Indiana. I am confident that she has what it takes to be a game-changer for our education system," Hale added.
After McCormick's talk, students broke into different sessions to discuss STEM education, opportunities to work at informal educational institutions, creating a positive learning environment and inquiry learning with robotics. Other sessions covered organizational strategies, loss of student knowledge during summer vacation, getting involved in teacher's associations and connecting classrooms to museums.