UIndy Athletics honors 2017 Hall of Fame inductees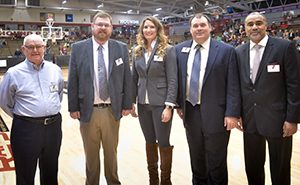 The 2017 University of Indianapolis Athletics Hall of Fame inductees were honored in a ceremony Saturday, Feb. 11. This year's Hall of Fame inductees were introduced at halftime of the men's basketball game against Rockhurst University, with the induction ceremony following at the Schwitzer Student Center.
UIndy Athletics is proud to introduce this year's inductees:
Dr. Kenneth "Doc" Borden – Dr. Ken Borden is an Eastern New Mexico University graduate where he studied Chemistry and Mathematics. He went on to earn his Master's Degree from the University of Illinois before receiving his Doctorate from the University of Arkansas in the field of Nuclear Chemistry. Ken began his teaching career at Indiana Central College where he advanced in the ranks from Assistant Professor to Professor of Chemistry at UIndy. He served as department Chairperson and as Chief Advisor for the Health Professions for 22 years. From 1975-77, he was the UIndy Sports Information Director before becoming the Faculty Athletics Representative (FAR) from 1980-2005. During that time he worked with the HCC, MIFC, and GLVC athletic conferences, as well as the NCAA, and served as President of the GLVC for multiple terms. Ken was inducted in 2013 into the GLVC Hall of Fame for his years of service and dedication. For almost 20 years, he served as the staff photographer for the Athletic Department. Ken also provided a home for the Greyhound mascot, Timothy O'Toole, a retired racing greyhound. Throughout his career, Ken has been acknowledged numerous times for his hard work and excellence. Some of these accomplishments include: Outstanding Educators in America award recipient, American Men and Women of Science award recipient, and Honorary Alumnus of Indiana Central University (1982) among many others.
James "Jim" Bruce Jr. '60 – Jim Bruce Jr. is a 1960 graduate of Indiana Central College, where he was a four-year letterwinner for the Greyhound wrestling program. Jim was a member of Indiana Central's inaugural wrestling team and posted a winning record of 6-2-1. In 1958 he was a National Qualifier for the first NAIA Wrestling Tournament in Mankato, MN, and in the 1959-60 season, he was a member of the squad that won Little State. Off the mat, Jim was president of the Letterman's club and a school photographer. Jim was employed by General Dynamics and Rockwell International as an Aerospace Consultant. In 1969 he was awarded the NASA Apollo Achievement Award for dedicated service to the nation as a member of the Apollo team whose work culminated in man's first landing on the moon. Jim was heavily involved in the Boy Scouts of America and earned the Explorer Scout Silver Eagle Award and the Award of Merit from the Boy Scouts of America.
Greg Matheis '92 – Greg Matheis is a 1992 graduate of the University of Indianapolis and excelled as a two-sport athlete in both football and wrestling, lettering all four years in both sports. He was voted the Male Athlete of the Year twice, and served as team captain for both squads. As a wrestler, he qualified for nationals his freshman, sophomore, and junior campaigns and was a two-time All-American. On the gridiron, Greg led the team in tackles and sacks for three years, received All-Conference and All-American honors, and was named to the Kodak All-American Football team. Presently, Greg is the Vice President of Commercial and Retail Lending at Springs Valley Bank & Trust. In his community, Greg serves on the board of the Dubois County Habitat for Humanity, and is a volunteer wrestling coach at Jasper High School. This February, Greg will be inducted into the Indiana High School Wrestling Coaches Association to honor his achievements as a high school and collegiate wrestler in the state of Indiana.
Elizabeth Ramsey '01 – Elizabeth Ramsey is a 2001 graduate of UIndy, where she was a four-year letterwinner for Women's Basketball. During her time with the Hounds, she registered numbers still standing in the record books today. Elizabeth is ranked first in program history for points, field goals, scoring average, rebounds, rebounding average, double-doubles, consecutive double-doubles and was a member of the 1,000 Point Club. In addition to her longstanding records, she was recognized as All-GLVC Honorable Mention, 2nd Team, 1st Team, All-Tournament Team, CoSIDA All-Region 2nd Team, 2000-01 Richard F. Scharf Paragon Award Winner, and the 1999-2000 UIndy Female Athlete of the Year. After graduating from UIndy, she received her Masters in Sports Administration from Canisius College and went on to earn her law degree from Indiana University McKinney School of Law. Elizabeth is now the Associate Director of Enforcement for Basketball Development with the NCAA and she serves as a volunteer at the Horizon House of Indianapolis.
Ron Rutland Jr. '92 – Ron Rutland Jr. is a 1992 graduate of the University of Indianapolis and was a three-year letterwinner for the Hounds basketball team. Ron holds the program's all-time career assist record, ranks in the top 10 in career points scored, and holds the record for most points scored in his first game as a freshman. At the time of his graduation, he held the record for the highest points per game average in GLVC history, with an average of 26.3 points per game. He was a three-time tournament MVP, was awarded the 1989 Kelso Reid Mental Attitude Award and was the 1991 Hounds Men's Basketball Team MVP. He was also named First Team All-GLVC and First Team Division II All-Great Lakes Region in 1991. After UIndy, Ron played eight seasons of professional basketball: seven in Europe and South America, and one in the Continental Basketball Association. In the community, Ron serves as a board member for the First Baptist Athletics organization and coaches the 5th grade basketball team at Center for Inquiry School #84. Ron is the owner of the Rutland Insurance Agency, which was recently awarded the Bethel A.M.E. Cathedral of Indianapolis Community Leadership Award in 2014.
Dennis Reinbold '83: "I" Person of the Year – Dennis Reinbold is a 1983 graduate of the University of Indianapolis where he was a two-time letterwinner for the baseball team that appeared in the 1982 College World Series. He recorded a two-inning, one-hit save in the 1982 HCC Tournament to help the Hounds earn a share of the conference crown. After graduating from UIndy, Dennis earned his Masters in Business Administration from Indiana State University. In 2005, he was recognized as the recipient of the Charles Bertram Alumni Award of Distinction: a prestigious award given by the GLVC to former student-athletes who served their institution with personal distinction since graduation. Currently, Dennis is the Principal of Dreyer & Reinbold and owns multiple auto dealerships in the Indianapolis area. He is also the founder and owner of Dreyer & Reinbold Racing; a team who has competed in seventeen consecutive Indianapolis 500s and recently won the 2016 Red Bull Global Rallycross Lites Championship. Dennis has served on the UIndy Board of Trustees since 2006.
1972-73 Men's Track and Field Team – The 1972-73 University of Indianapolis Men's Track & Field team was one of the most prolific teams in program history. During their reign, they posted a second place title in the Midwest Indoor Championship, and captured both the Indiana Collegiate Conference crown and first place at the Little State competition. Throughout the monumental season, new records were set in the one, two, and three mile races by Gary Romesser; high jump by J.D. Layman; shot put by Jerry Allgood; and the two mile relay comprised of Gary Brendel, Larry Musselman, Gary Romesser, and Rick Stover.
Questions regarding the Hall of Fame event can be directed to Gina Dacy in the Athletic Development office at dacyg@uindy.edu or 317-788-8565.