UIndy sweeps state level education awards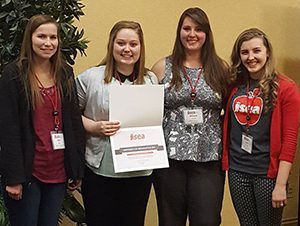 The University of Indianapolis Education program enjoyed a stellar weekend at the Indiana State Education Association.
Junior elementary education major Lyndsy Eslinger was elected state president of the association at the annual representative assembly. Molly Wolfe, also a junior elementary education major, was re-elected to a second term as the state's Region 3 Representative.
Senior Elementary Education majors Molly Beal and Andria Shook won scholarships, as did Molly Wolfe. Eslinger was awarded the J.D. Miller Student Leadership Award, and Beal was named the Outstanding Senior of the Year. Also at the event, UIndy was named the Outstanding Chapter of the Year.
"The awards, scholarships, and offices earned at the state meeting this weekend validate what we already know – that UIndy fosters a community of educators who are dedicated, exceptional leaders on campus, in their K-12 classrooms, and around the city and state," said Kate Reinhardt, school and field liaison and the School of Education.
Eslinger said it was an honor to be named the president of the Indiana Student Education Association "because of the opportunities that it will give me to inform, interact with, and inspire fellow pre-service teachers around the state. With these opportunities, I am able to enhance the college experience of education majors all over Indiana, and that is really exciting."
UIndy's Student Education Association (SEA) offers valuable opportunities to aspiring teachers, as scholarship recipient Molly Beal can attest.
"Receiving the Outstanding Senior Recognition Award was a confirmation that joining UIndy's Student Education Association as a freshman was one of the best decisions I had ever made," said Beal, who has served in several roles with the SEA. "This award affirms that the impacts I have made at both the local and state level have been appreciated," Beal said.
Andria Shook, who plans to pursue a career in special education, called the scholarship an honor and the "perfect kickstart to my life as an educator."
Eslinger values the emphasis that UIndy's School of Education places on professional development. "With events held by the Professional Edge Center and two strong student organizations, the Student Education Association and Kappa Delta Pi, I get opportunities outside of the classroom that only UIndy can provide," she said.
Wolfe also finds the School of Education's focus on professional development invaluable. "I have always been encouraged by my professors to participate in professional development events and leadership opportunities, and because of these engagements, I feel more confident in my leadership abilities to take on a role at the state level," she said.

Beal said the Education program's focus on classroom experience is crucial. "UIndy's School of Education is unlike any other," she said, noting how students are placed in classrooms from freshman year onward. "I feel confident in my experiences at UIndy that I will be able to find a teaching job in a district that I love after I graduate."