UIndy Theatre students bring hilarious farce "Move Over, Mrs. Markham" to Dinner Theatre
Dinner Theatre is back at the University of Indianapolis with the debut this weekend of "Move Over, Mrs. Markham."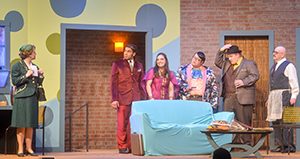 The University of Indianapolis Department of Theatre will perform the free-wheeling 1960's farce by Ray Cooney and John Chapman on Feb. 24-26 and March 2-4, 2017 at the Schwitzer Student Center Dining Hall. Dinner is scheduled for 6:45 p.m. each night with the performance to follow at 8 p.m. A free preview will be held at 8 p.m. on Thursday, Feb. 23, 2017 (no dinner included).

UIndy Dinner Theatre is fast-paced and exciting, and "Move Over, Mrs. Markham" is a delightful comedy of errors that Department of Theatre students hope the audience will love, said actor Stephen Cox.
"Dinner Theatre is always a show stopper because of the farcical nature of the shows, so sit back and enjoy it," Cox said.
Mary Schreier plays the eponymous Mrs. Markham in the show, which is a light-hearted British bedroom romp as the characters' little lies lead them into compromising situations. Hilarity ensues when three couples arrange secret rendezvous in the same London apartment. Playwright Ray Cooney is known for his many farces staged in London's West End, including last year's Dinner Theatre hit "Out of Order."

"Live theatre is an escape and laughter is therapeutic. Come to the theatre and laugh with us! And it certainly doesn't hurt that there's food," Schreier said.
For the audience, it's also a chance to revel in the retro fashions and psychedelic colors of the swinging sixties.
"I didn't realize there was such extreme, extravagant makeup that was done in the 60s, especially for women. And men! Their hair was extravagant as well," said Kristine Storms, hair/makeup designer.
Staying true to the original production, UIndy Theatre students will be using English accents – from posh "Received Pronunciation" (think BBC announcers) to Cockney.
"I specifically enjoyed learning and implementing (to the best of my ability) a [Received Pronunciation] British accent. It's been the most challenging part of the rehearsal process, but it's also been really fun. It definitely helps bring to life the world of the show," said Cox.
If you need a break from the non-stop news cycle, Dinner Theatre is the perfect diversion.

Buy tickets here.
Admission: $27 general; $25 for alumni, senior citizens, groups of eight or more, and non-UIndy students with ID; $15 for UIndy students, faculty, and staff. (Limited availability for 7:30 pm rush entry; no charge). 
Free Preview: February 23 at 8 p.m.: No dinner included.
Dinner Theatre: 
February 24, 25 & 26: Dinner is served at 6:45 p.m. and the performance starts at 8 p.m.
March 2: 8 p.m. ($6 – no dinner)
March 3 & 4: 6:45 p.m.