Timeline display explores female scientists, mathematicians
A visual illustration on display in Martin Hall in honor of Women's History Month highlights the history of women in science and mathematics.
Sophomore Emily Taner and senior Marissa Thomas created the timeline as a project for the Gender and Ethnicity in Math and Science (GEMS) course. Krysi Leganza, associate professor of mathematics and computer science, and Sandy Davis, professor of biology, teach the class together.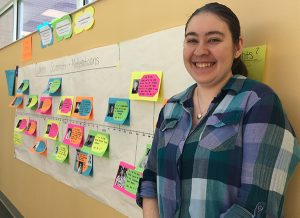 Taner, an anthropology major with a minor in human biology, said she was inspired by Dr. Leganza talking about a "men of mathematics" timeline, and realizing that only one woman was featured.

"I don't really recall ever seeing something like that with only women, and the ones I did see seemed to usually only feature white women," Taner said. "I wanted to make one that featured only women, but also included women of color. It also seemed fitting since we could have it up in time for Women's History Month." Taner said.
Thomas, a finance major and accounting minor, said what surprised her the most as she worked on the project is that women are still being recognized for "firsts," as in "the first Nobel prize winner or first minority woman to fly into space."
The project was designed to encourage students to consider the disparities and work toward establishing their own successful careers in (Science, Technology, Engineering and Mathematics) STEM fields, Leganza said.
"I do think for a long time, there was a lack of role models for girls and minorities," said Leganza.
The GEMS class explores the history of women in science and math, but also digs deeper into contemporary obstacles that lead to fewer women and minorities in those fields. Students are required to interview a woman or minority STEM professional and present their report to the class.
As a woman studying mathematics, Leganza said she had a positive perspective due to the encouragement she received as a student. She passes that philosophy on to her students.
"I think we have to change what we think of as success in math. It's not getting the answer the fastest. It's the creativity. It's the problem-solving," she said.
Thomas, who says she's always excelled in math, will be putting those skills to work as she embarks on a career as a banker with Chase after graduating this May.