VP forges pioneer's path for women in athletics

Ask Sue Willey for the key to success in leading collegiate athletics and she's likely to tell you "perseverance pays off."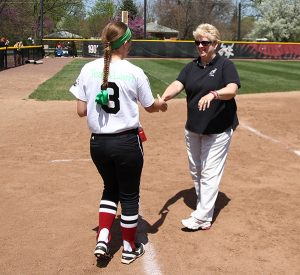 Across four decades, Willey, the vice president for Intercollegiate Athletics at the University of Indianapolis, has served as a pioneer for women's athletics at UIndy, where she helped to build Greyhound Athletics into a formidable NCAA Division II program. She learned as a young woman she had a passion for athletics, which she transformed into a mission to provide equality and opportunity for both male and female athletes on campus.

"There aren't many people who spend their whole lives at one institution," she said. Reflecting on the improvements she's witnessed at UIndy, she added, "It has changed immensely since 1975. We're not the same school that we were."
Willey offers a rich perspective on the history of women in collegiate sports. She recalls a time when she used her own salary to pay for uniforms and equipment for her female athletes. That gesture was one example of the sacrifice and commitment of Willey to the University, but it since has had far-reaching implications on women's sports across the country.
The first female athletic director at UIndy (and one of about 19 percent within all divisions of the NCAA), Willey has been at the forefront in the fight for equal opportunity in sports. From her beginnings as a student athlete to an administrator, Willey continually fought for – and won – a seat at the table.
Her ninth grade physical education teacher, who was a UIndy graduate, inspired her to pursue a career in athletics as a Greyhound. She played field hockey, volleyball, basketball, softball and tennis – and wore the same uniform for all of them.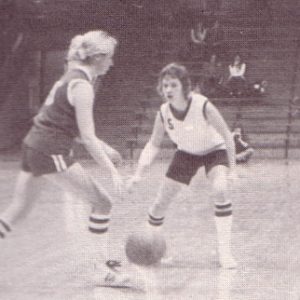 "I knew the fight song before I ever came and visited," said Willey, who played on the men's tennis team as a freshman and then started a women's team the following year.

As the steward for the University's Title IX efforts in athletics, Willey now ensures each athlete in the program is offered the same experience and resources, regardless of gender. That includes the same per diem for men's and women's teams, along with equal access to training and equipment, locker rooms – and uniforms, too.
"My passion was in athletics, obviously. Having gone through and seen all the inequities, it was my job was to make things better for everyone," Willey said.
Willey is an expert on the history of women in collegiate sports and brings valuable insight because of the progress she's witnessed. She wrote her dissertation on the once-powerful Association of Intercollegiate Athletics for Women (AIAW).
Founded by women who Willey calls her foremothers, they created the AIAW at a time when the NCAA refused to get involved in women's sports. Willey said the AIAW was "very much an educational model of athletics" which existed from 1971 through 1982, when the NCAA began offering athletic championships for women.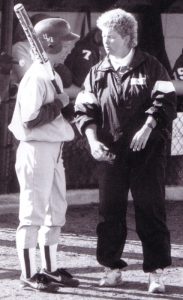 "Am I glad it's one organization now? Yes, because a lot of what we did in the AIAW has become part of the NCAA. Women have brought different and important perspectives to the table," she said, adding that she continues to educate female athletes about this often overlooked chapter in the history of the governance of women's intercollegiate athletics.
"They know nothing other than the NCAA and the endless opportunities they now have to compete. They have no idea of the fight that took place in order for them to get that right," she explained.
Along with ensuring that student athletes learn to appreciate that history, Willey also talks about her guiding philosophy.
"We've been very successful across the board. I am most proud of our coaches and our administration," she said. "We preach this all the time. If you are here ONLY for the X's and O's, it's not the right place for you. We are about helping young people prepare for their futures. A lot of coaches come here and say it's a very different environment because everybody's pulling for each other, instead of each coaching staff in their own little silos only caring about their sport."

Part of that success is ensuring a commitment to diversity, and making it a priority when recruiting staff, Willey said. She hired Stan Gouard, UIndy's first African-American head coach in basketball, in 2008. She believes prioritizing diversity sends an important message to athletes, especially women and minorities.

Willey serves on several NCAA committees, including her current four-year term on the Championships Committee. She frequently visits other universities  to discuss best practices in athletics administration, although she says she's always happy to come home to UIndy.
If you want to experience Willey's no-nonsense attitude firsthand, check out her Football 101 class this fall. A Colts season ticket holder, Willey admits her love for the sport – and even toyed with the idea of becoming a football official. She might even show up in a referee's jersey.