UIndy nursing educator trains students with passion and commitment

On a recent tour of the University of Indianapolis' School of Nursing, Rebecca "Becca" Cartledge introduced visitors to "Lou," one of the lifelike mannequins used to train nursing students in the Nursing Simulation Lab, also known as the Sim Center.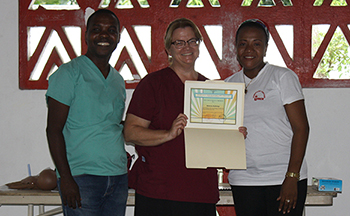 Cartledge, the nursing coordinator who runs the Sim Center, outlined Lou's impressive capabilities, including the simulation of a heart murmur. UIndy nursing students also can check his respiration and insert an intravenous drip into his arm – and even resuscitate him.
Then Cartledge shared some surprising news.
"Lou's going to die today," Cartledge said, explaining that a simulated patient death is part of the training process. That emphasis on a realistic learning experience makes UIndy's nursing program robust, as it focuses students on the real-life situations they'll encounter in the field. The UIndy Sim Center is designed to be as close to a real hospital setting as possible.

Cartledge, last year's recipient of the 2016 Distinguished Faculty/Staff Alumni Award by the University of Indianapolis Alumni Association, said it's all about the details when it comes to preparing students for the real thing. They practice everything from simulated childbirth (with complications) to treating Lou's heart problems.
To receive the Distinguished Faculty/Staff Alumni Award, nominees must demonstrate a commitment to the University's mission, "Education for Service," and show a record of outstanding contributions to their profession. Her passion for instructing future nurses was built on a transformational mentor relationship she had early in her career, something she now pays forward to her students.

Cartledge always knew she wanted to enter a caring profession, having spent her teenage years raising her younger sisters. She worked as a labor and delivery nurse before joining the University of Indianapolis as an adjunct instructor and later a student, earning her MSN. As the coordinator of the SimCenter, Cartledge mentors nurses through real-life treatment scenarios that prepare them for the challenges and rewards of a nursing career.
"I especially like that students have the opportunity to practice scenarios in a safe environment, so that when they are in the real world, they have developed not only muscle memory but the critical thinking to provide competent and safe care to their patients," she said.
Cartledge's mentorship is not limited to classrooms or the Sim Center. She says some of her greatest joys at UIndy have emerged from leading students on overseas service-learning trips to experience health care in other cultures, including Ecuador, Haiti, Belize and the Dominican Republic.
"Through these experiences I have come to know my students on a deeper level and see them grow as future healthcare providers or professionals in their fields. Many of them have also grown in their faith through these experiences as well," she said.
Cartledge works as a faith community nurse educator and coordinator of the clinical learning center. She and her husband lead a ministry within her church, The Creek at Shelby Street. She will lead students on a service-learning mission with the Haitian Health Care Service for spring term.
She is motivated by opportunities to help others, whether that is her students, her local community or communities across the world. Cartledge said her career is enriched through these diverse experiences.

"Because of these relationships, I have been blessed to catch one of the student's first born, watch my husband marry another to her spouse, attend numerous weddings, and even have an alumni care for my own family. UIndy has become family," she said.