Access to women in leadership of sport is boon to UIndy sport management students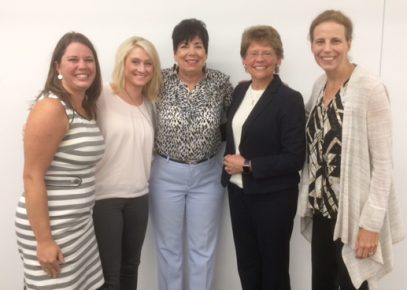 As the saying goes in the real estate industry, "location, location, location" is the key to a good property investment. That same message can be applied to selecting a college for its proximity to key players in a specific field or industry. 

Students in the undergraduate and graduate Sport Management programs at the University of Indianapolis benefit from the school's proximity to and working relationships with powerhouses in the world of athletics. Recently, the sport management programs leveraged this advantage when it hosted a Women in Leadership event in the Health Pavilion.

The second annual event brought key women leaders from the sports world to UIndy to share professional insights and offer networking opportunities for undergraduate and graduate students. The speakers included:

 

Joni Comstock, senior vice president of championships and alliances, NCAA

 

Audrey Becker, event and program manager, NFL Combine

 

Stephanie Young, certified strength and conditioning coach, St. Vincent Sports Performance

 

Linda Paul, former president and CEO, USA Diving

 

Kathy Sparks, LAC, ATC, team leader – Sports Medicine Outreach, IU Health
"These women have made – and continue to make – an impact on the world of collegiate and professional athletics," said Jennifer VanSickle, director of the UIndy sports management programs and associate professor of kinesiology. "Bringing them to the University of Indianapolis to share their experience is a win for our students."

Some of the messages students heard from women on the panel included "Don't let the barrier to success be you," (Stephanie Young); "Let your failures be your greatest learning experiences," (Linda Paul); and "Surround yourself with all different types of people. People with a variety of backgrounds, gender, age, and race," (Joni Comstock).

"This event was not just another lecture," said senior sport management major Carolyn Holt, who attended Women in Leadership last year as well. "This is a way to build connections and opportunities in the field of sport management."
Holt has completed an internship as a team logistics intern with Indiana Swimming and will serve as an Indianapolis 500 Festival intern in Spring 2018.

The networking opportunities provided by the panel discussions helped Jessie Benner, a graduate sport management student, arrange a job shadow at the NCAA headquarters in downtown Indianapolis.

"I attended because I wanted to hear from strong women in management positions in sports," Benner said.

"(One speaker) talked about how she used to be timid and not confident. Throughout her career, she has been able to break out of her shell. I identified with that and felt good knowing that it's okay to start small."

Senior sport management major Brianna Harrison encouraged students to take advantage of the networking opportunities.

"I am very interested in the empowerment of women in both the sports and the non-profit spheres," she said. "This event is a great chance to empower yourself by networking with women who are working in the field."

Harrison, who has completed internships with the Indianapolis Alley Cats ultimate Frisbee team and Special Olympics of Indiana, will graduate with degrees in both sport management and business management.

The next Women in Leadership event is scheduled for October 2018.