December 2017 Graduation: Meet Delmar Oropeza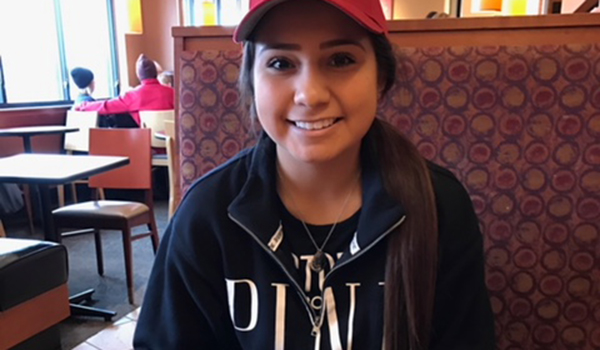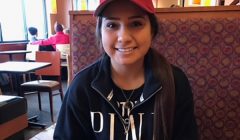 Delmar Oropeza '17 (biology, chemistry minor, pre-pharmacy concentration), was one of two Ron & Laura Strain Honors College students who received a research grant along with her co-researcher Sierra Corbin from the Sigma Zeta National Honor Society to conduct and present research at the National Collegiate Honors Council (NCHC) Conference in Atlanta. She is graduating in December.

Q. Congrats on your research grant from Sigma Zeta National Honor Society! What are your thoughts about receiving the grant?

A. I was pleased and thankful that Sigma Zeta was willing to fund our research. This grant meant that [co-researcher] Sierra [Corbin] and I would not have to fund our project. It was interesting to hear what professors and other students thought about our research. Most of them seemed really interested, especially because of the involvement of food.
Q. Could you briefly describe your research? What inspired you to pursue this topic?
A. We wanted to determine a procedure that could test the genotype of individuals for a portion of the gene that contains a marker for the taste preference of cilantro. We wanted to test if the way individuals perceive the taste of cilantro is genetic or not. Sierra and I enjoyed taking genetics with Dr. [Sandy] Davis (associate professor of biology), so we worked with her on our capstone/honors project. She gave us the idea, which caught our attention.
Q. How did your research experience – and Honors College in general – prepare you for the next steps in your career?
A. The research experience allowed me to expand my learning and communicative capabilities. There was a lot of reading and interpretation of papers that took place, which allowed me to expand my analytical intakes. We presented our research several times during the course of the project, and this helped me develop my public speaking skills. 
Q. What are your plans after graduation?
A. I plan to go to pharmacy school. I just submitted my pharmacy school applications to Purdue and Ferris State University. 
Q. Were you involved in any extracurricular activities as a student? If so, what were they and how did they enhance your experience?
A. I was involved with Chemistry Club, Sigma Zeta, Biology Club, Pre-Professional Club, College Mentors and I currently have a part-time job as a pharmacy technician at Wal-Mart Pharmacy. These activities enhanced my abilities to balance school, clubs and work. I think being in multiple associations and organizations has made me into a better student as well as a better organizer and manager of time in my daily life.  
Q. Were there any faculty, staff or fellow students who helped you during your time as a student?
A. There have been numerous professors and students who have helped guide my education. I would like to thank Dr. [Sandy] Davis, Dr. [Jim] Williams, Dr. [Kevin] Gribbins, Dr. [Doug] Stemke, Dr. [Marc] Milne, and Sierra Corbin for encouragement and advice during my years at the University of Indianapolis. Professors have served as advisors and mentors with not only schoolwork, but life-long decisions and career options as well. 
Q. Why would you recommend UIndy to prospective high school students?
A. I would recommend UIndy because the small classroom setting gives students the opportunity to know their professors. My advice to incoming freshmen is to not get overwhelmed during the first semester. And if such thing does happen, talk to your professors because they care about your education as much as you do. 
Q. Any other big takeaways or observations as you approach graduation?
A. I am super excited to graduate. I am ready for the next step, and now I am just anxiously waiting to start learning in depth about my future career!
Read about other 2017 December graduates.
Learn about 2017 December graduation.